I ordered some fish on the Internet. Really. eBay to be exact.
Not frozen. Real live, swimming-around-in-a-box, fish.
Who ever heard of such a thing?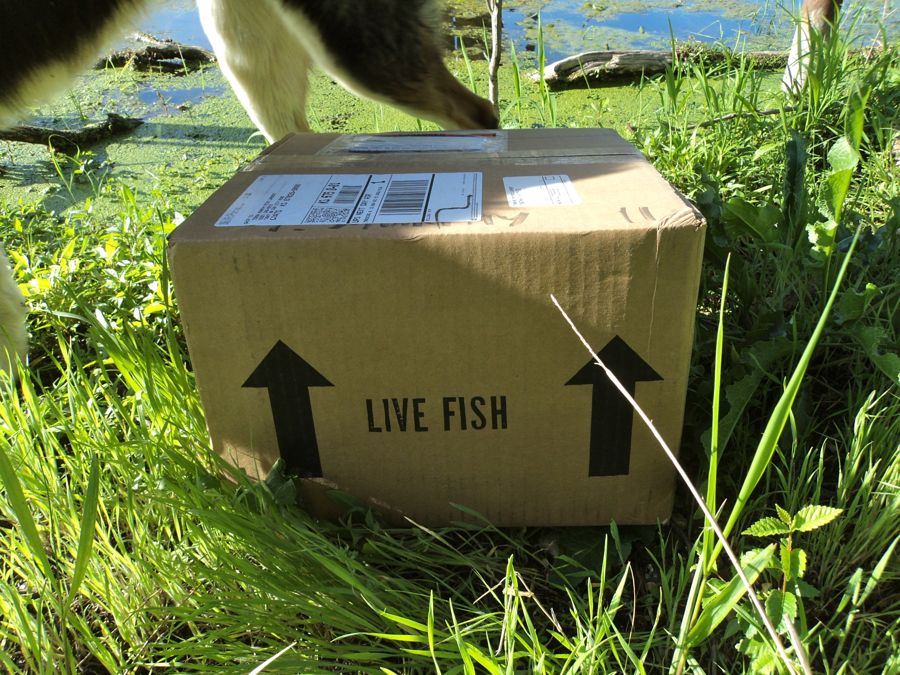 Not ordinary fish. Fish with bling. Koi.  I've been on a quest for the last 6 summers to get some in our pond. No success. It's spring and I am questing yet again.  Calls to the local fish hatcheries yield the same redneck remark. " What do ya want them Koi for? You know they're just carp. You can't eat 'em."    Really?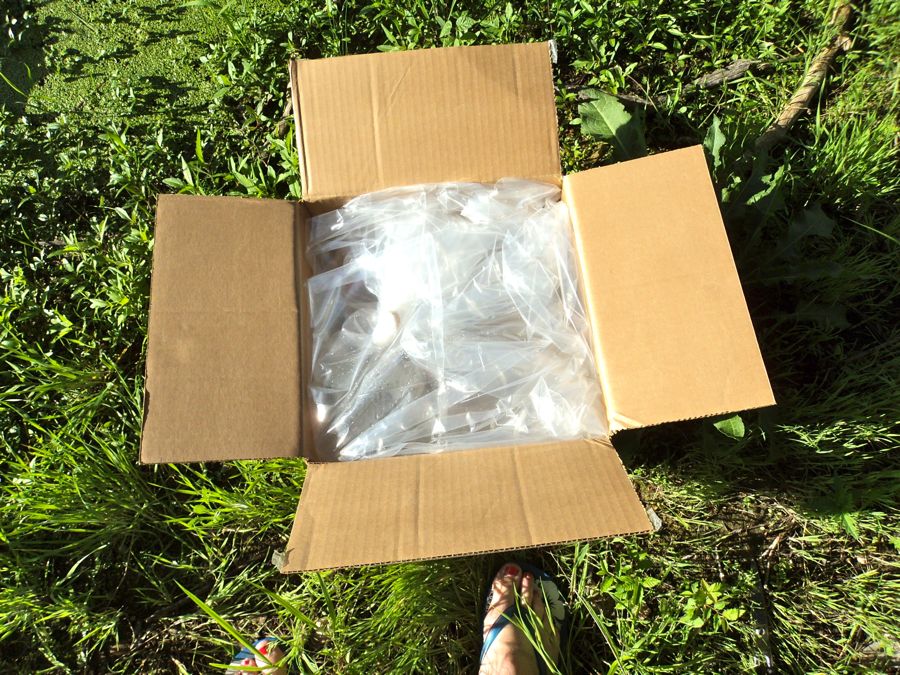 I'm all about shopping local. However, this time I have to bypass local due to the "Jethro" factor. My Google search netted me company called NextDayKoi that sells through eBay. They guarantee live next day and for 24 hours after you put them in your pond. This is a great country.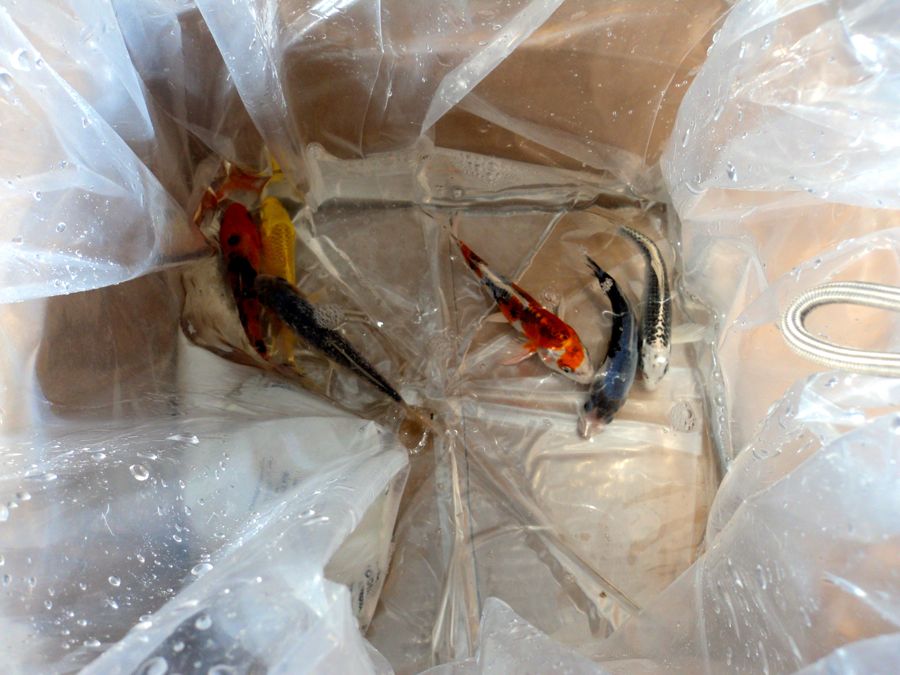 My biggest concern is size. The Koi need to be big enough so they don't fit in the mouth of our top predator, the Bass.  However the larger Koi are exponentially more expensive.  And since I'm not sold yet on the idea that they will arrive alive, I decided to order some smaller, cheaper ones for my Beta Test.  I eye-balled the Perch in the pond and figured they were 6″ and still alive so that must be the maximum size that Billy-Big-Mouth would eat.  I'm a risk taker, so I ordered a box the 6″ Koi off of a picture on eBay.  They arrived as promised the next day just like I was ordering from Amazon. They were healthy and thriving. Like I said…. America… what a country!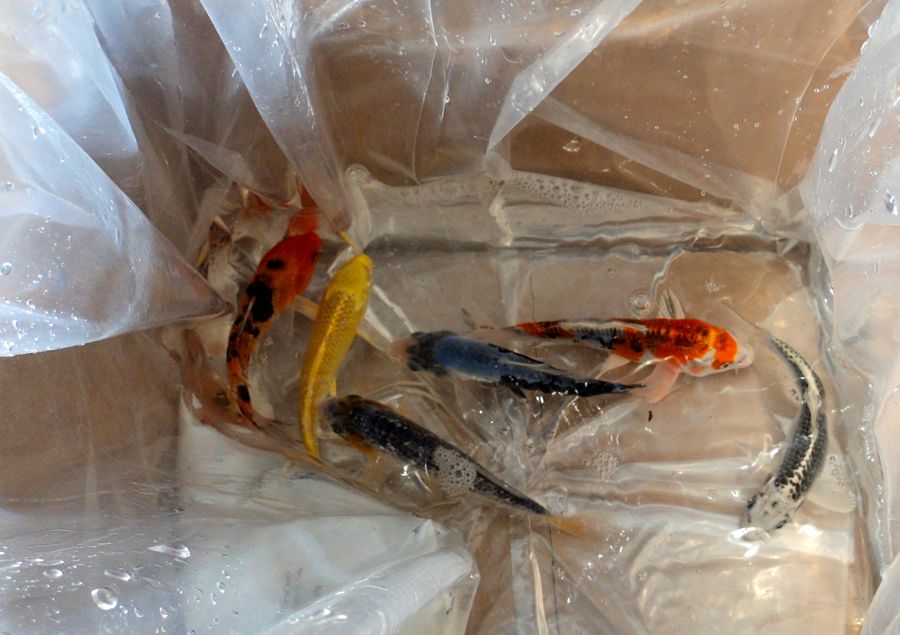 I was pleased when I opened the box. The colors were magnificent!  Just one small problem…..  the size !!  Obviously the orders at NextDayKoi are filled by men.  It's a gender specific perception problem.  I've noticed it all my adult life. Four inches looks like six inches to them. I should have known better and ordered the 8″ Koi.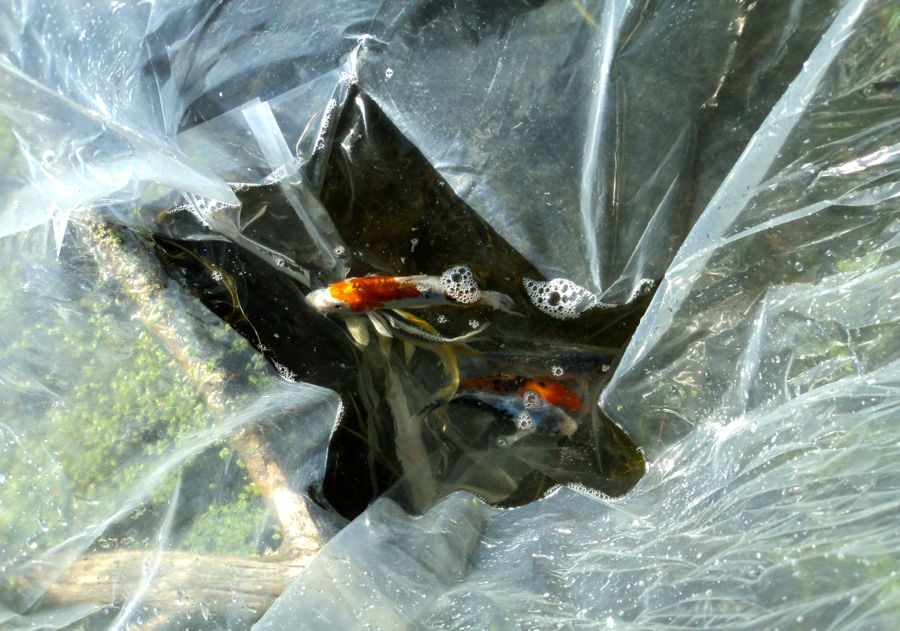 These little guys are going to be fighting for survival. Oh well. Too late now. Good to know for my next order.  I took the bag out of the box and put it in the pond for a few minutes to equalize the water temperature.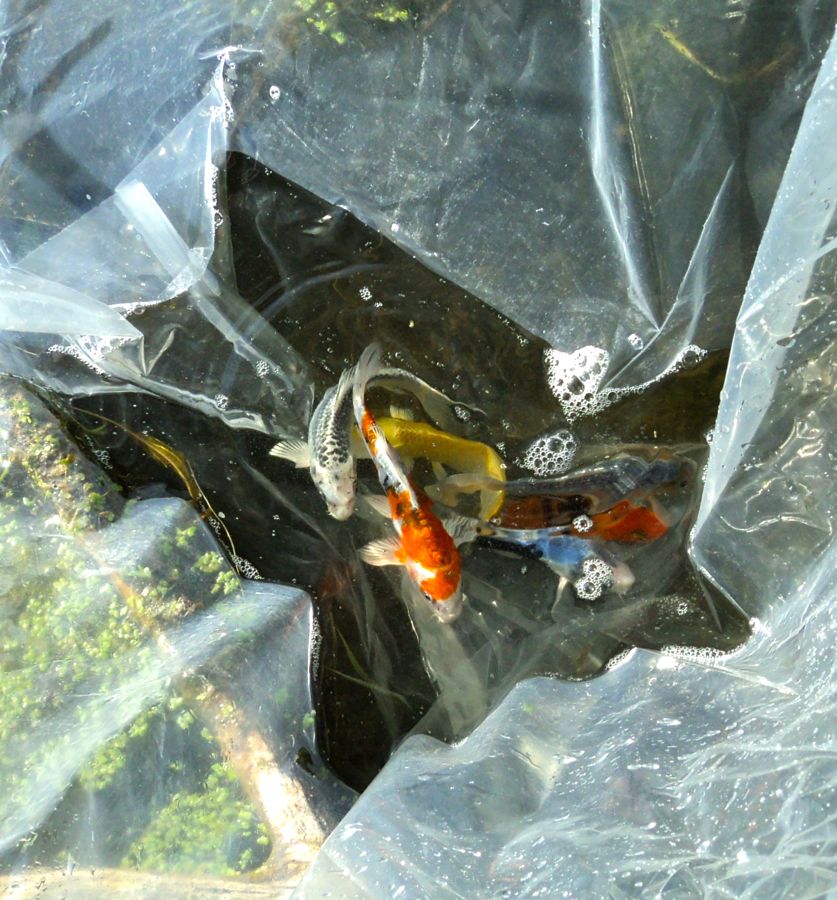 Then I start mixing pond water with the water in the bag. They're flopping around and ready to go. They're gorgeous. I'm so happy to have them. (However briefly that is)
I set them free. And help the diminutive  little 4″ guys swim off.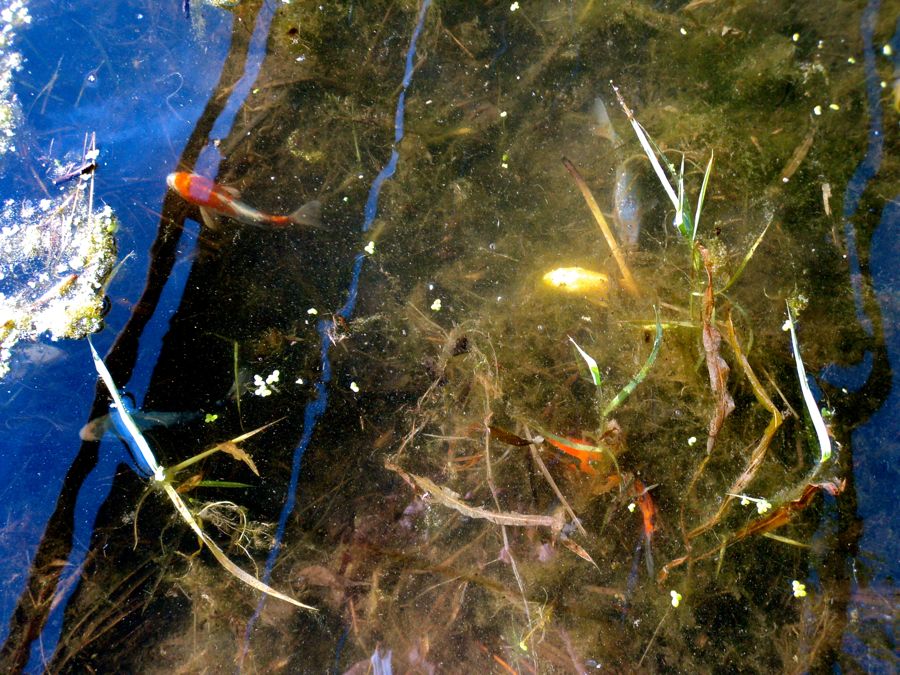 I hope I see them again.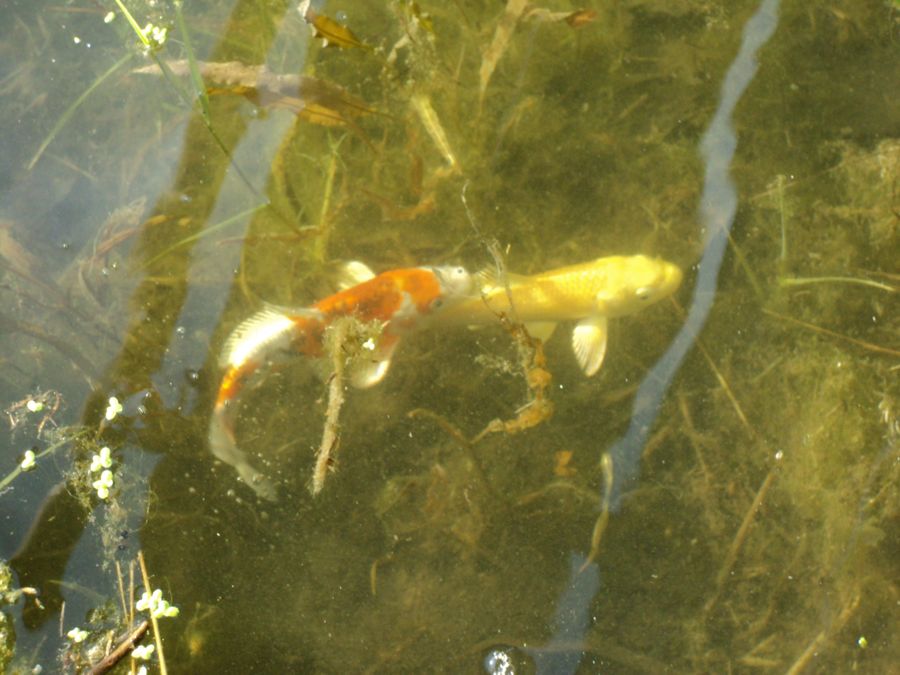 Soon.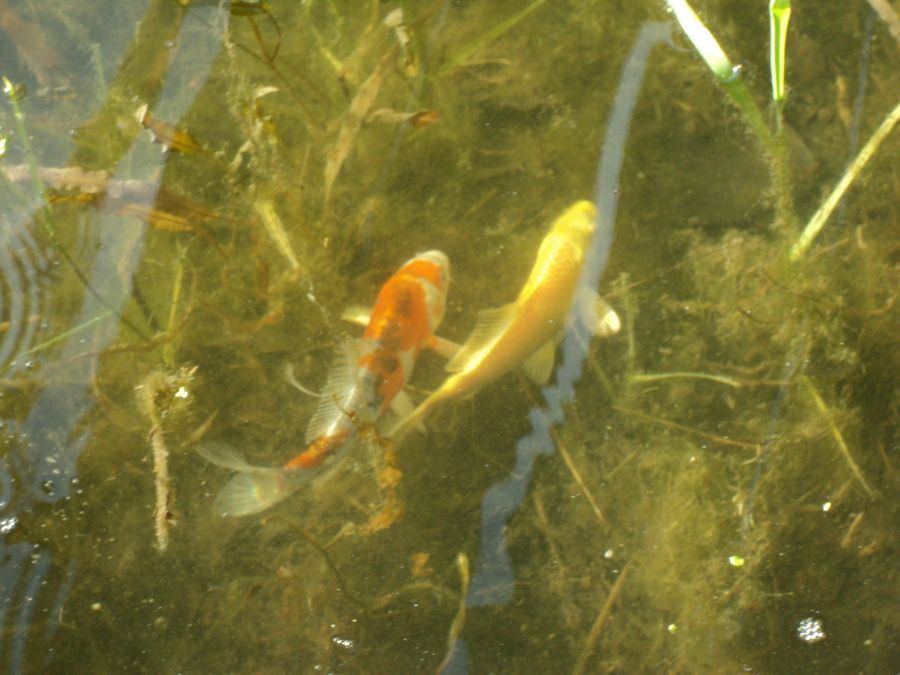 However, I am a realist. I'm already bidding on their big brothers on eBay.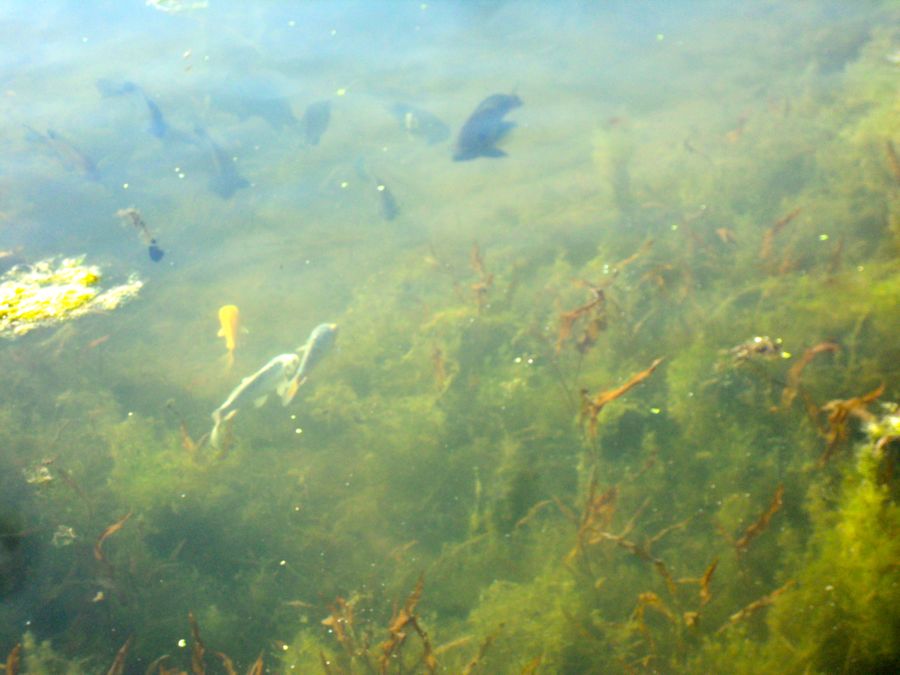 This time I'm ordering the 15″ Koi hoping for 10″.
Love,  Cowgirl Red,   aka  Terah
P.S. Why do I want Koi?  For the same reason I have a Paint horse, dye my hair bright red and paint my fingernails purple. Girls get that.  Boys do not.