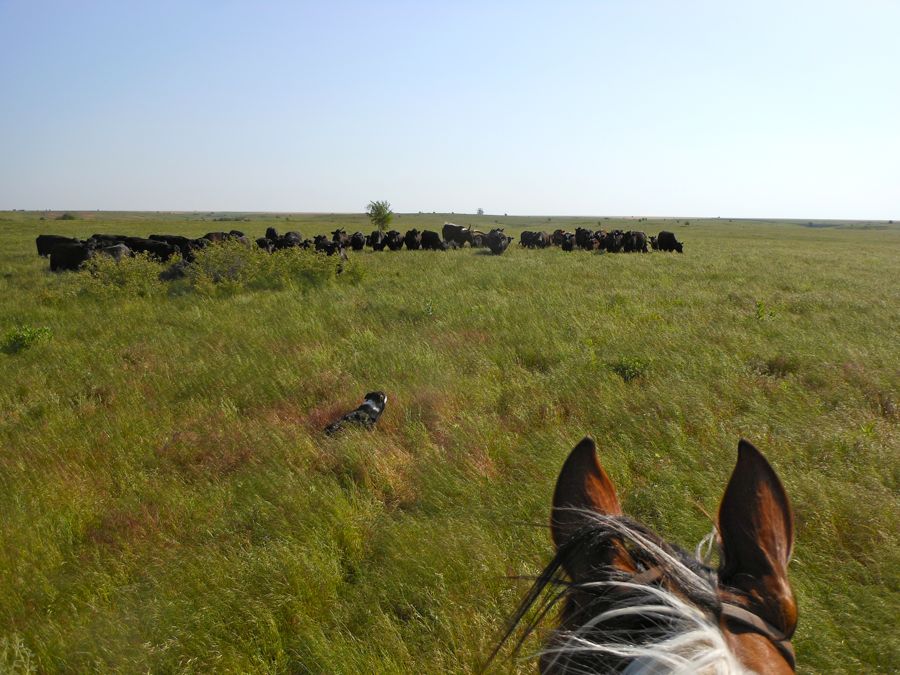 This Spring has been so beautiful that I've been pleasure riding a lot. Riding for no purpose other than fun. However, T.H. can't stand for me not to be on a mission, so if he catches me riding out with no assigned task he quickly manufactures one. It's a game we play.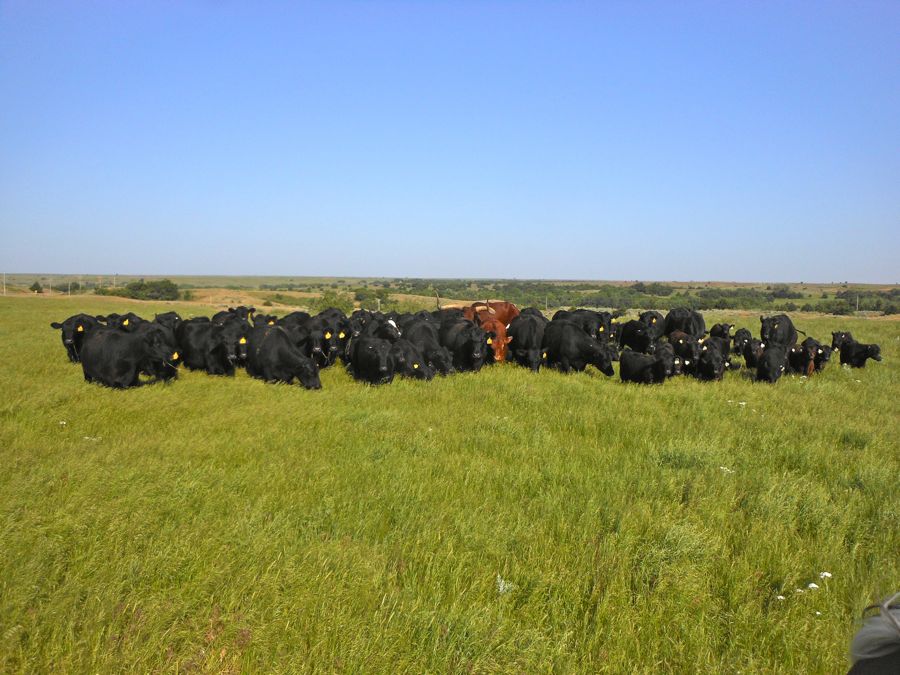 Today it's "While you're out there why don't you ride through the cows and check the eyes."  (Is that a question?)  Meaning the cheat grass is tall and starting to mature and the seeds get into the calves eyes and make them sore. Pretty soon we have to get them in and doctor their eyes.  I know he's already checked them a hundred times and knows that for a fact, but he likes to manufacture the illusion that I am productive, so I gladly comply. It's his favorite fantasy and  I was going that way anyway.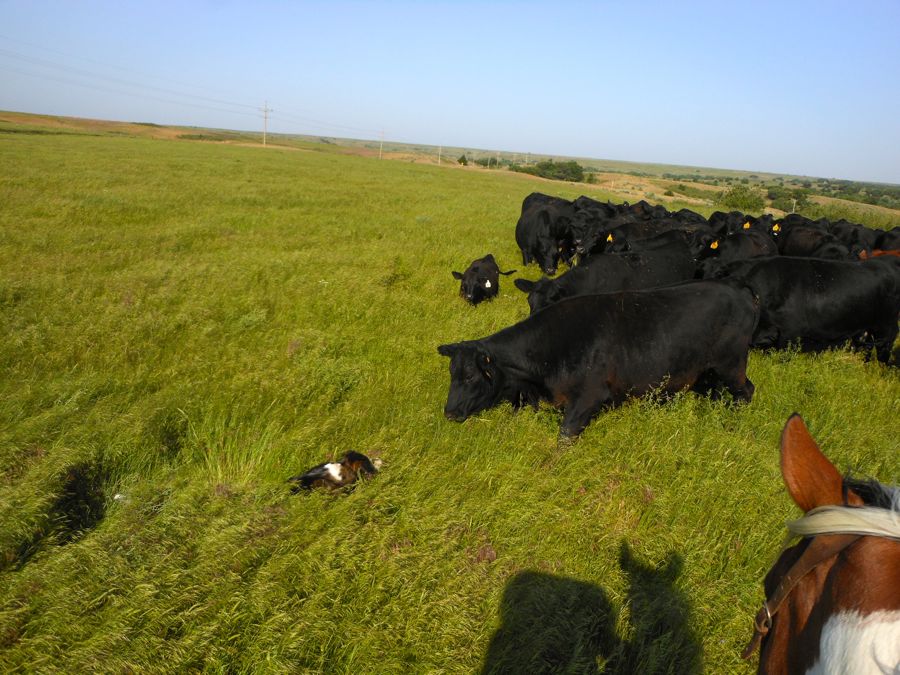 These are the neighbors beautiful Angus cattle that run on our grass. If I ride towards them they will walk away. If I stand still they will come to me because they're curious and friendly. My strategy is to stay put and they will surround me then I can get a closer look at their eyes.  Puncher is drowning in a sea of grass. I don't say any thing to her because I want to see how close she let's one get to her before she bites. I'm laughing because I don't think the cows know what that is bobbing around out there. Then my hat blew off. Darn straw hats and Kansas wind.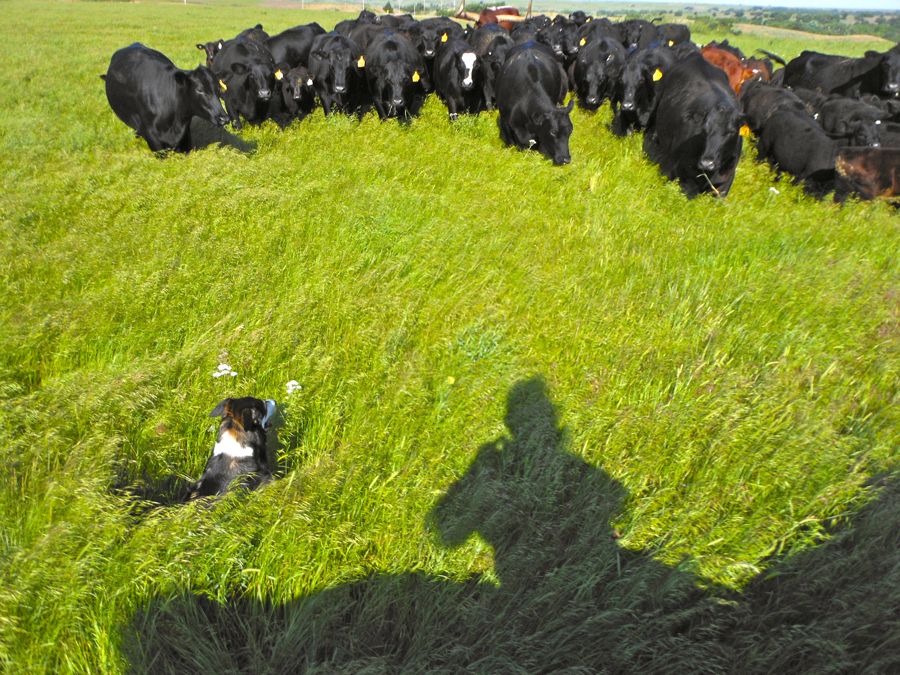 While I'm down picking up my hat I get a whole new perspective on Puncher's world.  Mostly because when that cow got too close, instead of biting she ran and hid under my horse. I thought,  "Wow, she's just one tiny dog over her head in an ocean of grass with big black sea monsters staring her down. That must be intimidating …… and a good photo-opp."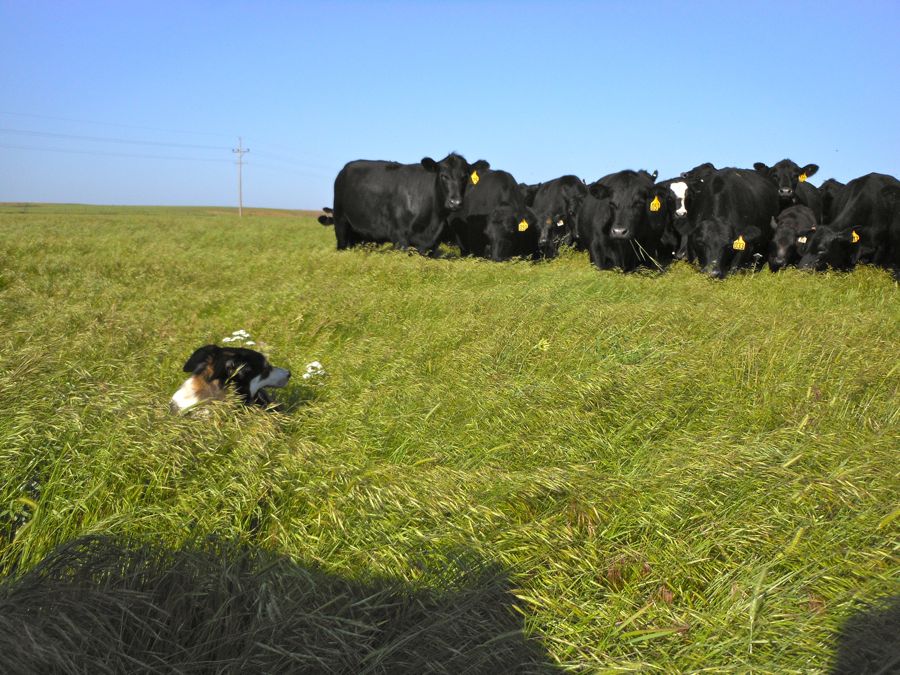 SO……. since I was on the ground anyway I just sat down with her to see what goes on in her world.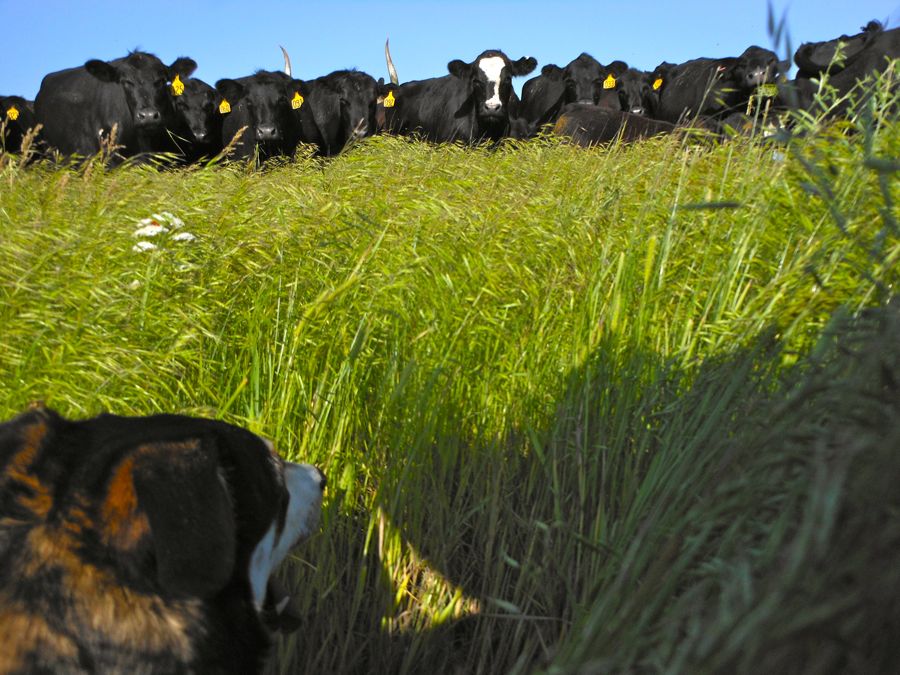 They inch closer.

 ……..and closer yet.  She has no where else to hide. Paint is right behind us if we need to call for back up. Unless I let go of the reins.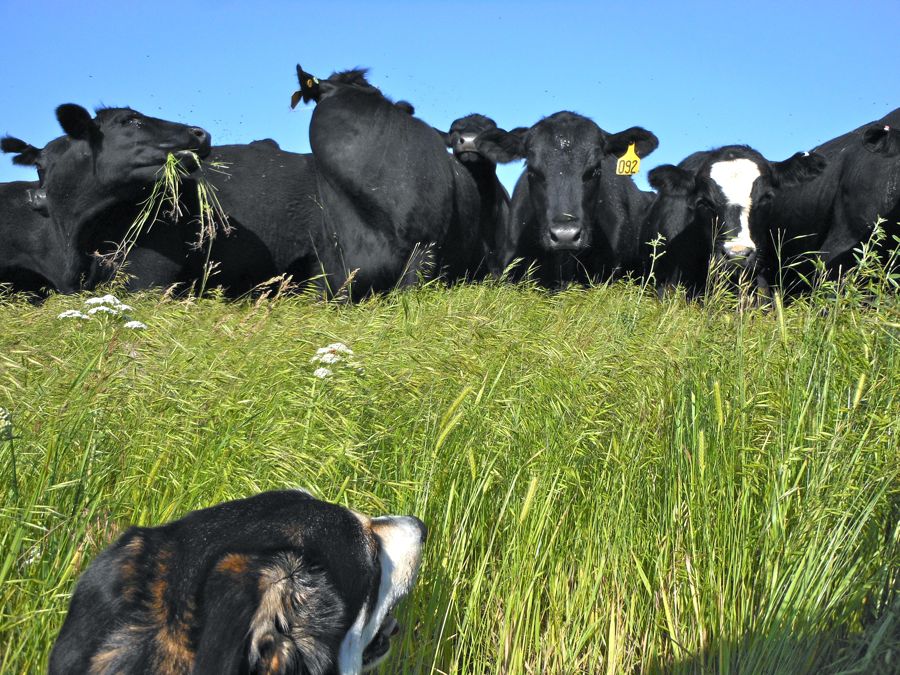 I'm not telling her to do anything.  We're just sitting.  Being present in the moment.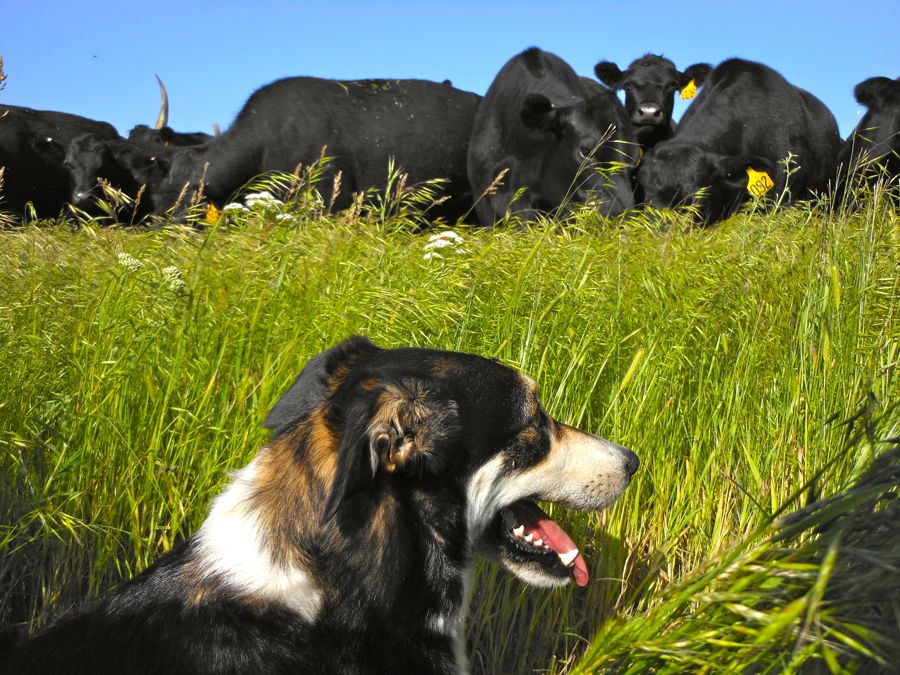 It's kind of Zen. At least for me. I don't think Puncher is feeling the love.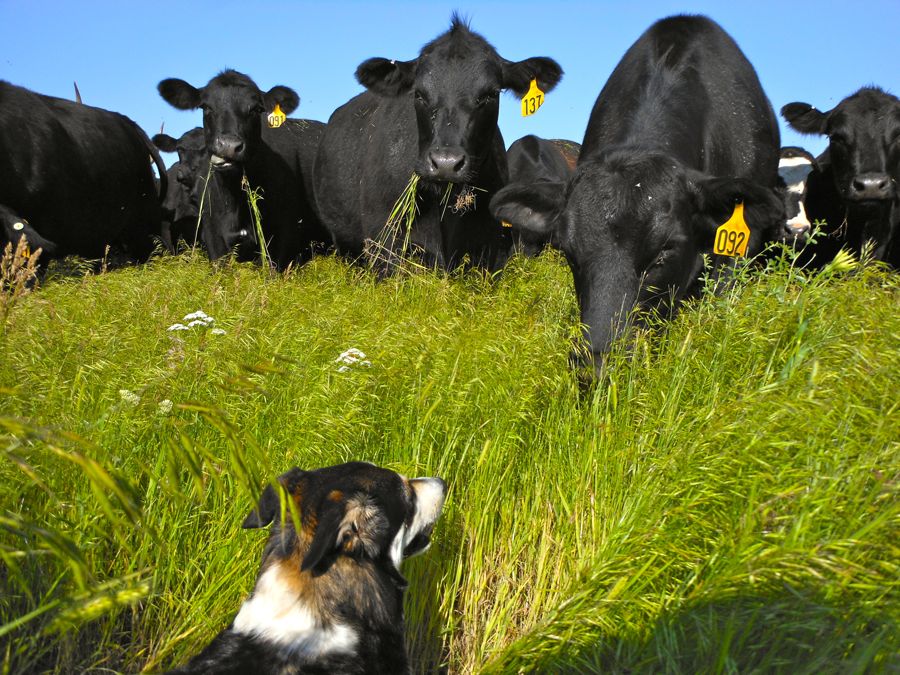 Ol' 92 Cow comes first.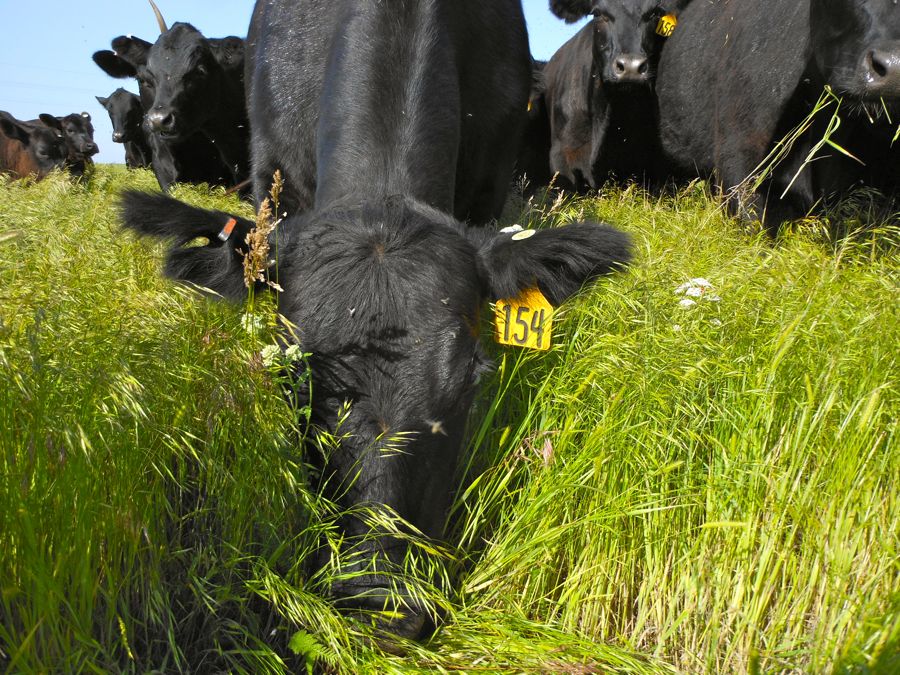 Then 154.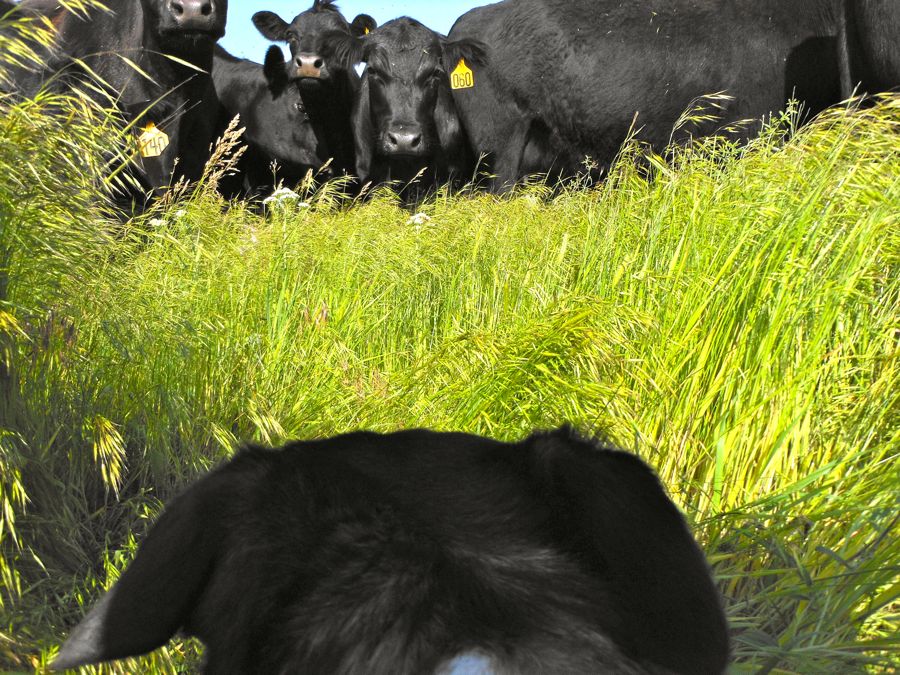 Puncher is growling but at the same time I feel like she would crawl inside of me if she could.  No wonder she's so neurotic at times. She has me messing with her head thinking only of my personal entertainment and blogging material.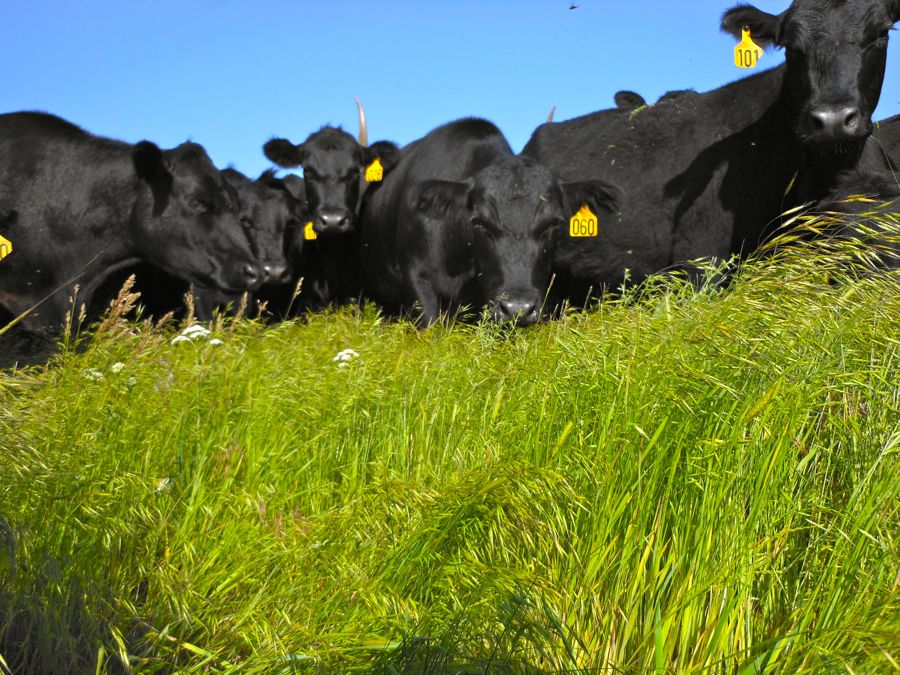 Then like the parting of the Black Sea.  I look up……..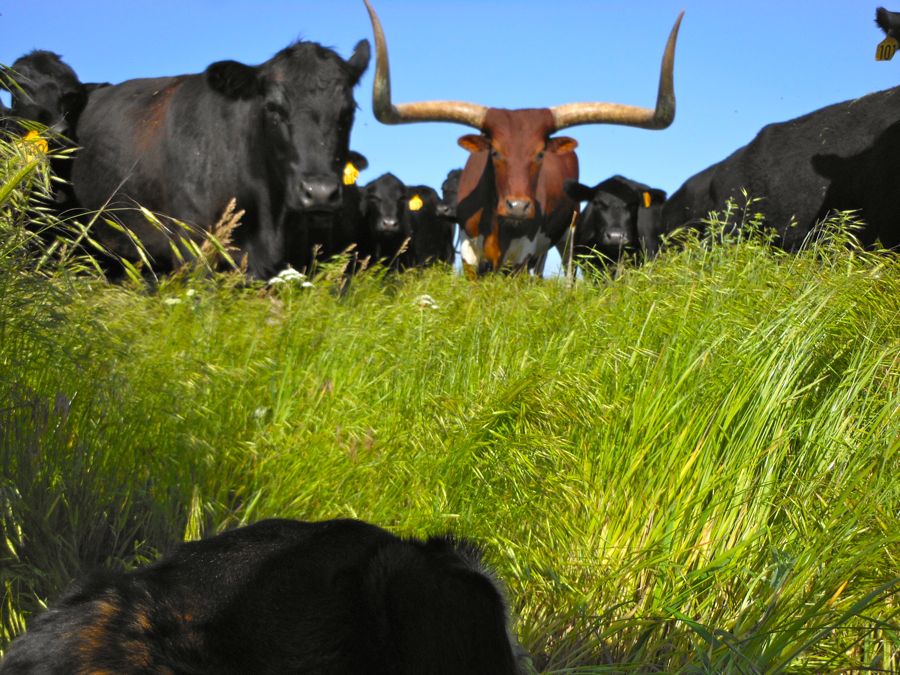 OOPS!!!       Not so  Zen.       I forgot about Bevo.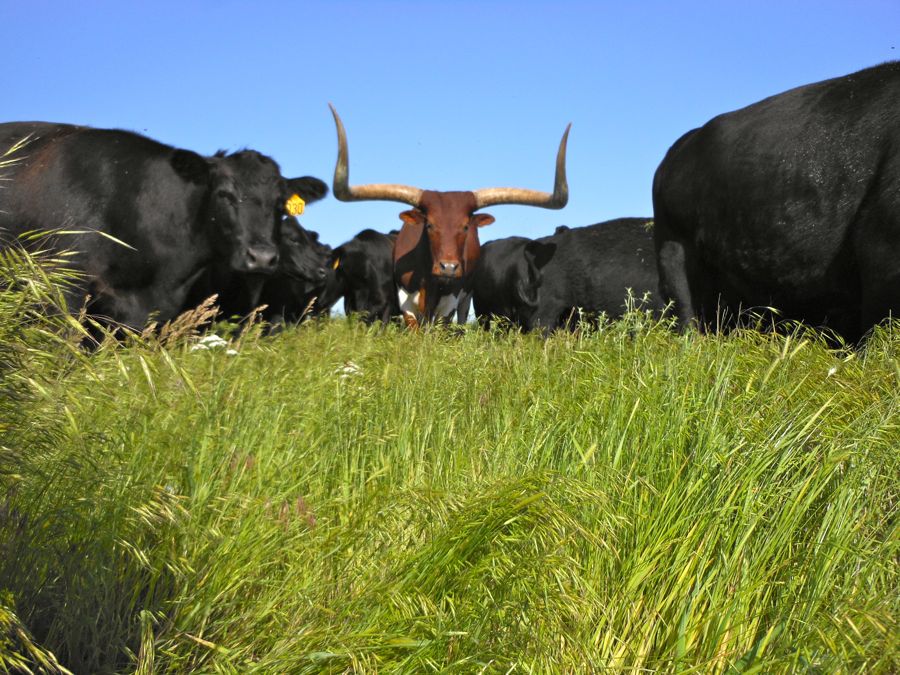 Time to scram. I slowly stand up and do what every brave Cowgirl would do …… I put my horse between us.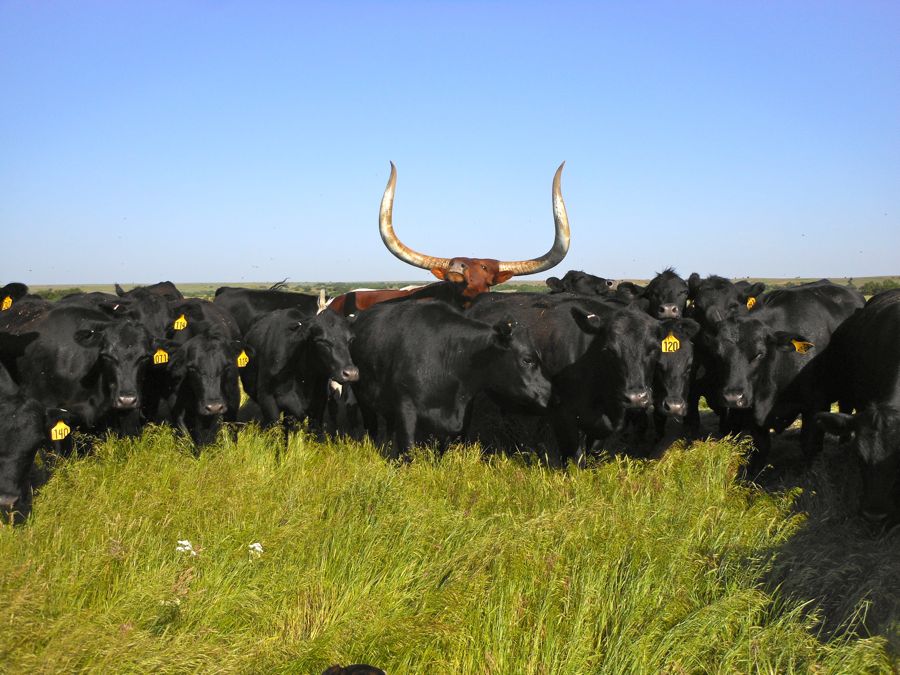 We ride off.   I think Bevo has Pink Eye. I'm not sure about the rest of them.
Love,  Cowgirl Red     aka  Terah
P.S.   And still………. people ask me what I do with my time.
Fresh From the Farm .  Farm Photo Friday.
Fresh from the Farm