Somehow I got qualified to go to the Ranch Sorting National Finals  in Oklahoma City last week.
 I really wanted to go. I was afraid. Afraid of the heat. Afraid of traveling down there alone. Afraid of competing in front of all those people.  I was afraid of being afraid and all the other fears and obsessions that go along with being me. But I went anyway.
Fear and excitement are really the same sensation.  I discovered I was really just fearlessly excited.
Here are some random musings about the week that was… the National Finals.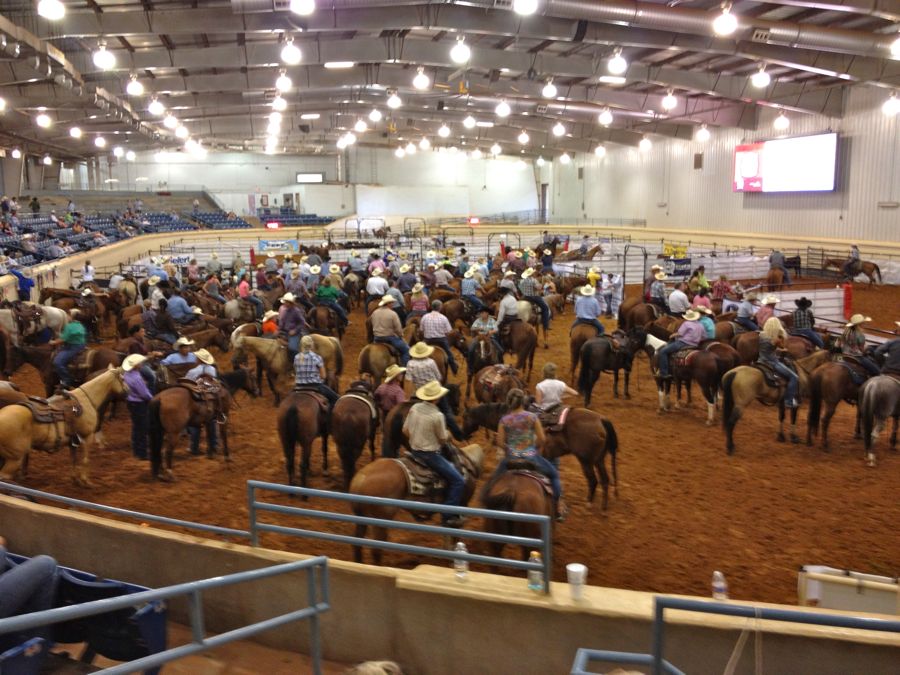 I was overwhelmed by the heat and the sheer number of people and horses.  I couldn't wait to saddle up.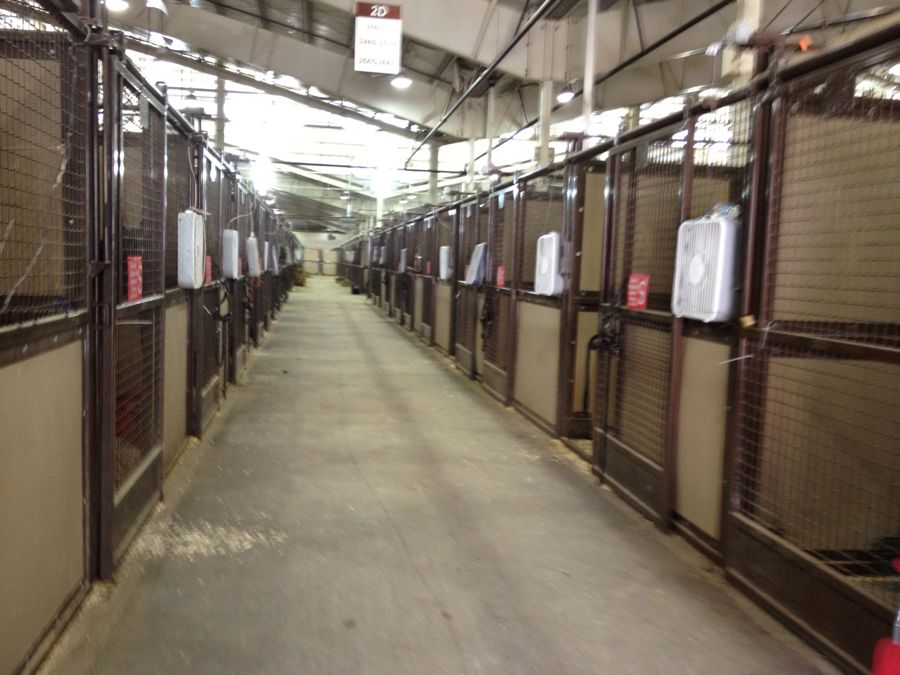 First I had to get Playboy settled in his stall which meant I had to locate it.  See this stall row? Multiply it about 100 times and that's how big the stall barns were. I soon found my friends and stall mates.  Wendy and Cathy had my back the whole week. They mentored  me and helped me to navigate this confusing labyrinth.  They are seasoned pros, National Champion Buckle owners, and good friends.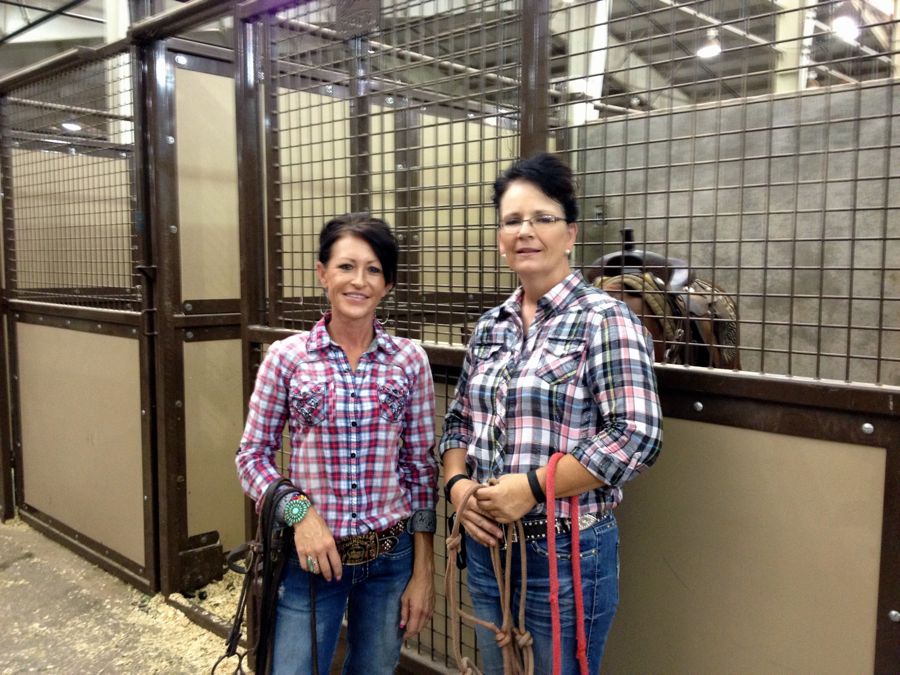 The competition started on Tuesday morning and ended Sunday night.  This sport has all these 'classes' and 'handicaps' that are terribly confusing to me still. I have to trust my elders (in this case my "youngers") I'm always asking them what and how to do stuff. They rock.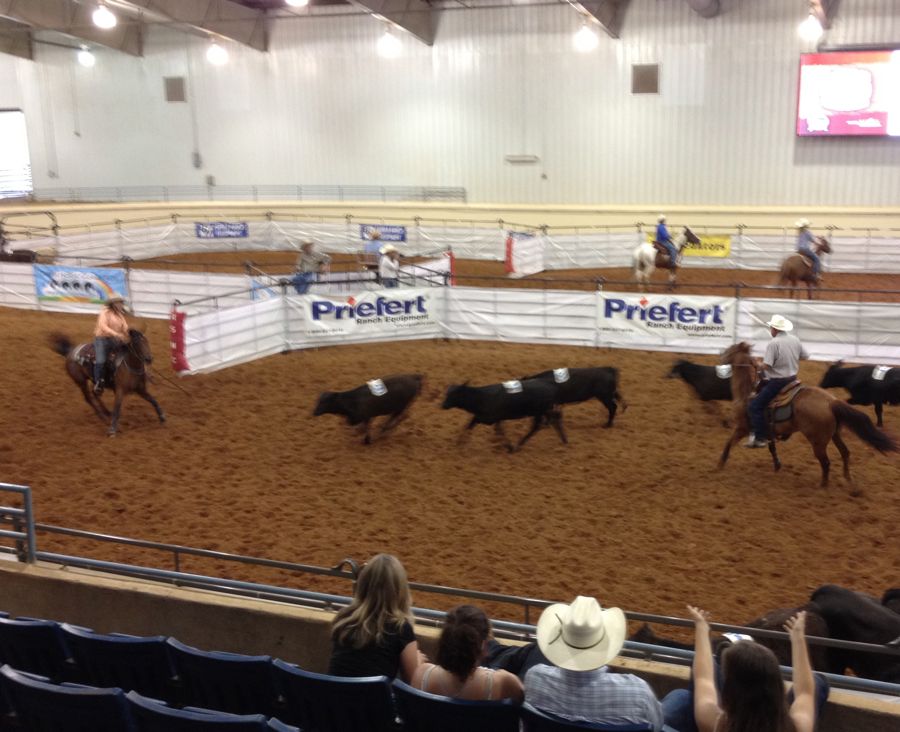 Multiply this scene 6,000 times. That's how many teams competed over 6 days. Or so I heard.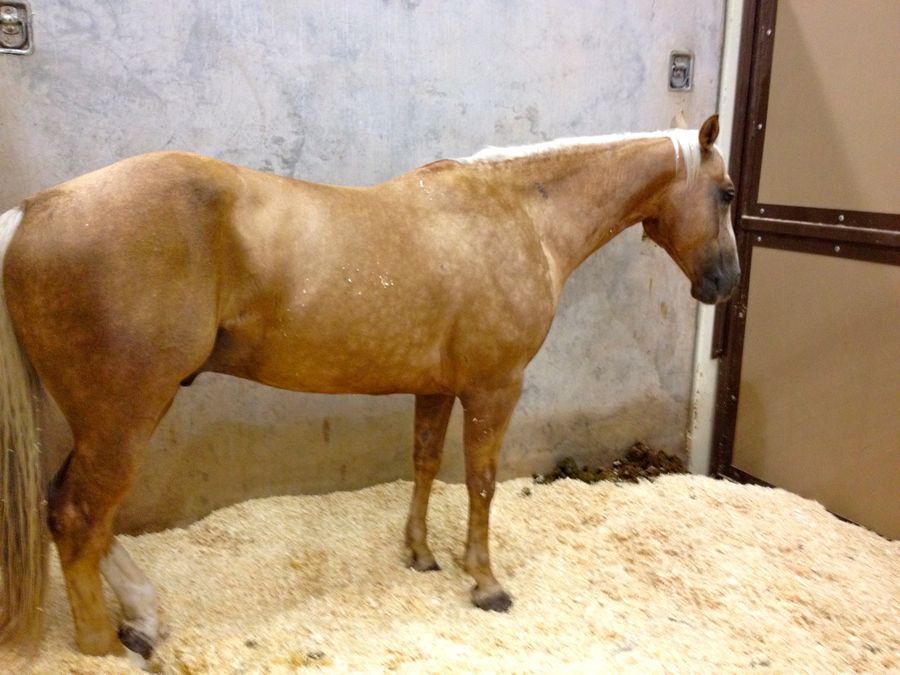 I learned something new about Playboy. He does have one single solitary quirk.  He likes a tidy stall. He only poops in the corner.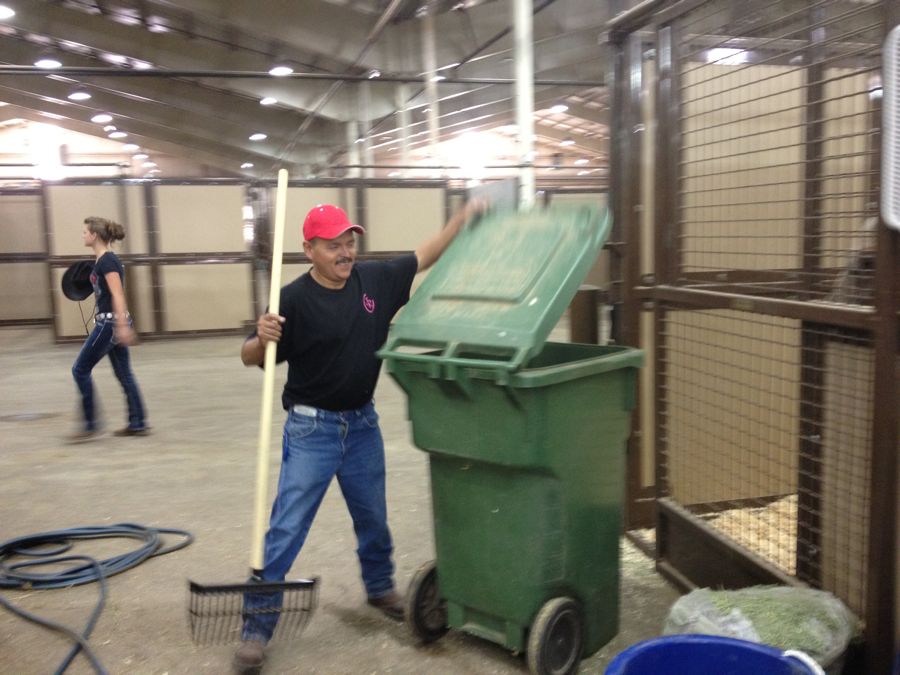 Much to the delight of my new friend, Felipe.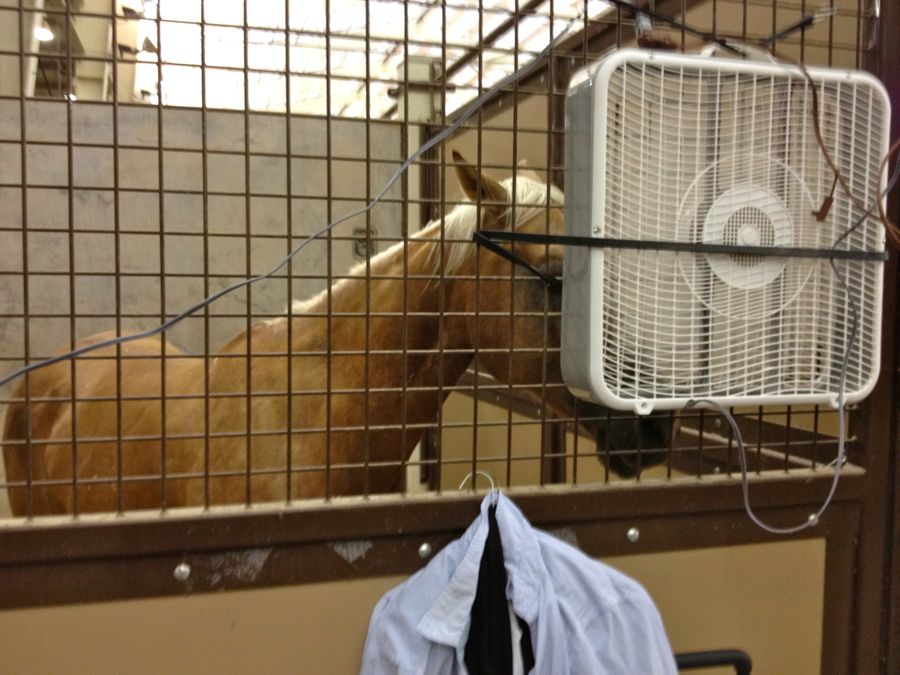 Playboy is a pro. He knows how to take care of himself in the heat. I gave him electrolytes everyday and he had two fans in his stall. He never went off feed once during the week. Some people that knew him before say he used to be cranky. I've never seen him cranky. They were surprised at how serene he was. We partnered up really good this week. I love this horse like I've had him all his life.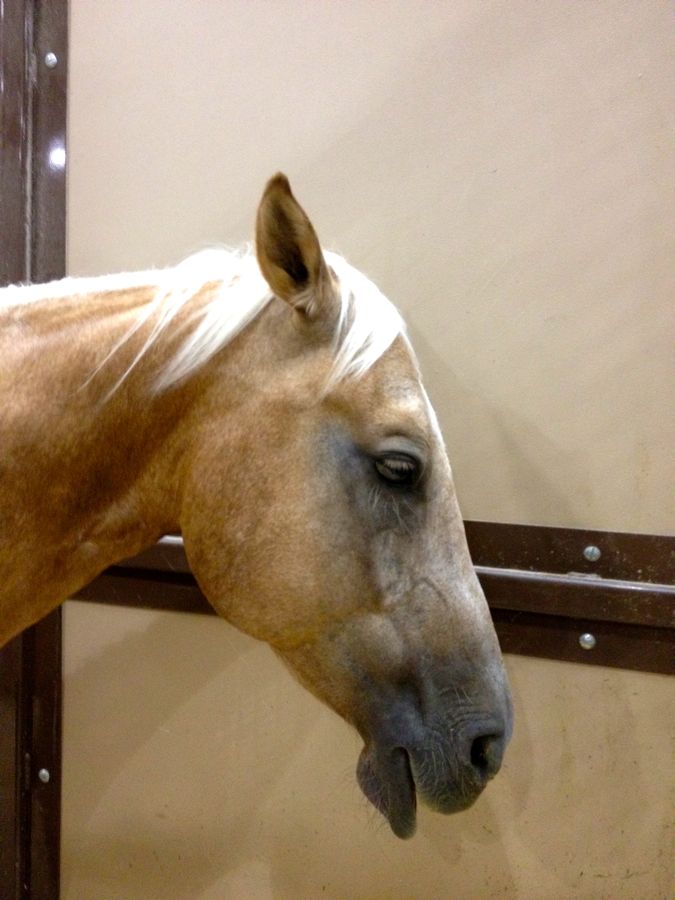 For the record,  this is what a hot horse looks like. When they get hot their lower lip droops. It's kind of funny. He probably doesn't think so. It was 100 degrees every day. The stall barns were hotter than the outside temperature. It was brutal. He never complained or acted stressed. Unlike me.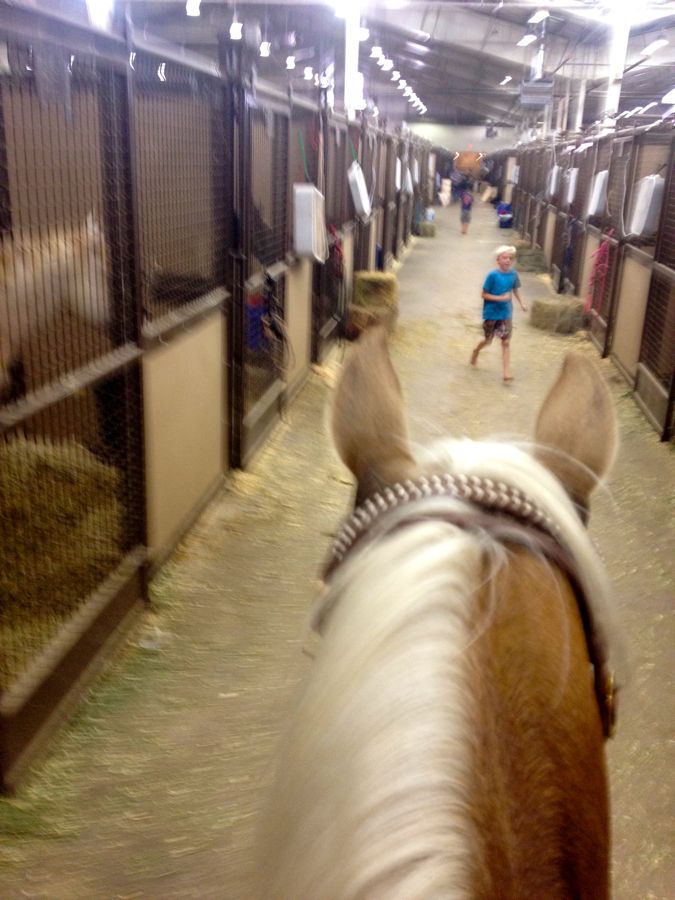 It's a good thing I don't drink anymore. I might have had a tough time finding my way home.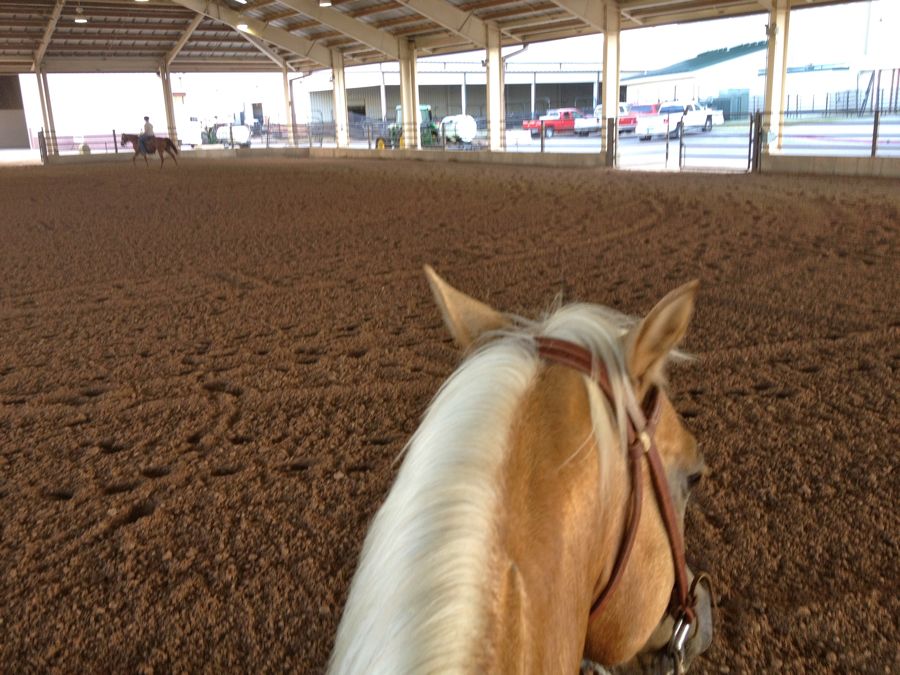 In the cool of the early mornings I found this one warm up arena that was secluded and empty. It helped me collect myself and get ready for our day ahead. It was very noisy and hot in the other big barns. The quiet breeze was  good for my nerves.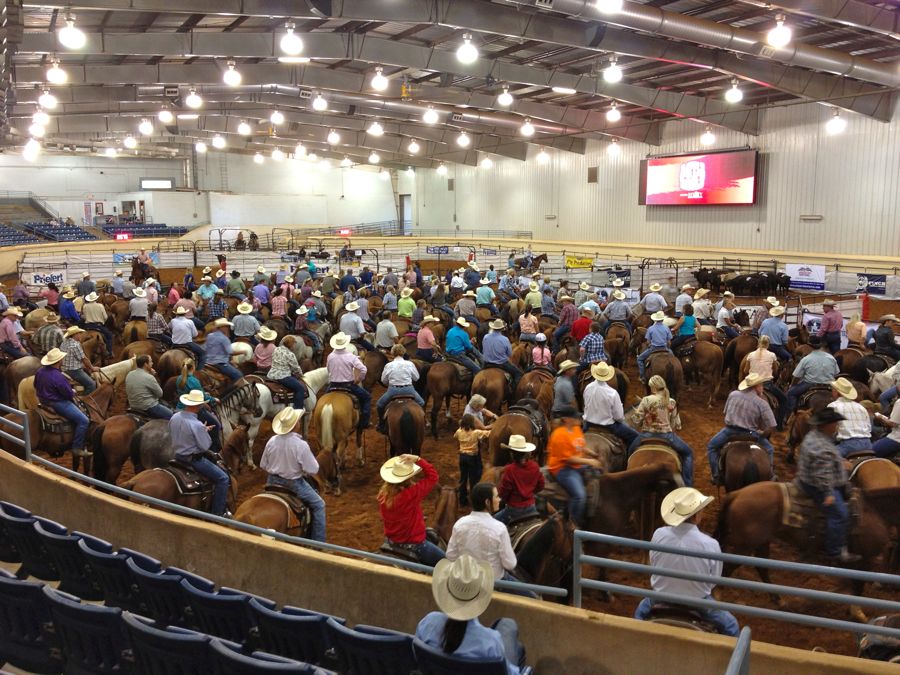 We competed several times a day with many partners in two different barns and five sorting pens. It was confusing on day one, but I soon got into the groove.  It's an amazing sight to see all these horses standing calmly waiting their turn.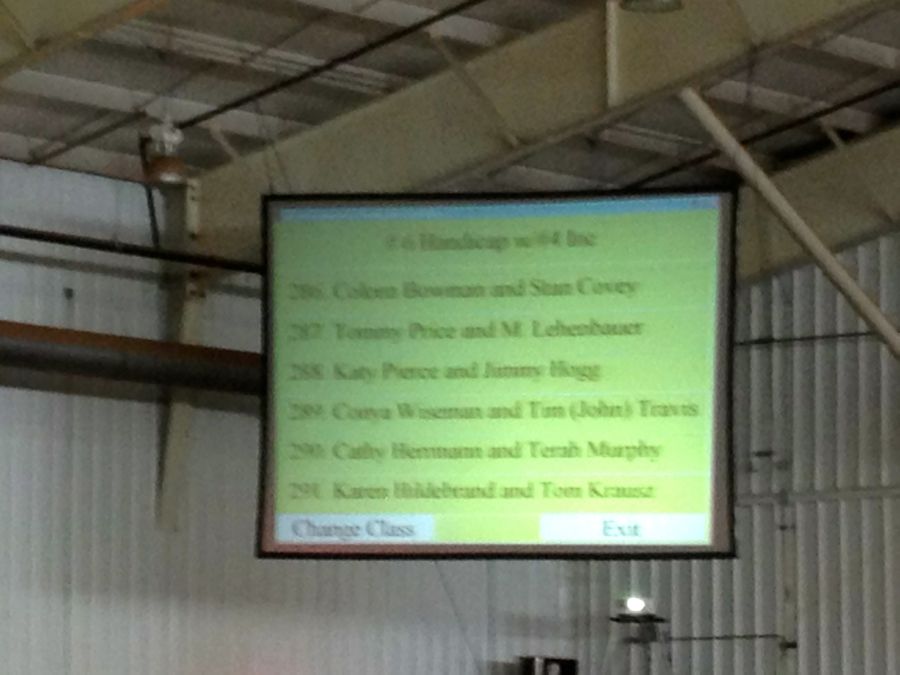 You had to pay attention to the screens and the announcers and the sheets they would post on the walls.   Sometimes there were 4 different announcers going at once. It went surprisingly smooth though. People watched out for each other and helped to find you if you were missing your ride.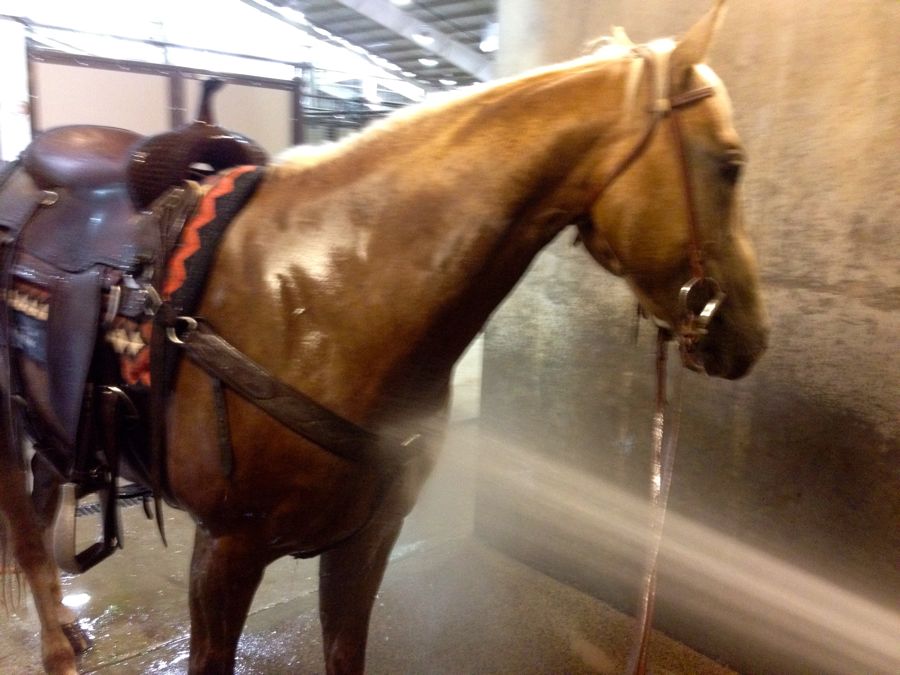 One day when we were competing all day, I gave Playboy a belly bath to cool off, saddle and all.  He loved it. Then I would put him back in the stall for a bit in front of the fans and let him drink and eat. I would sneak over to the Colosseum  that had better A/C and cool myself down.  I think I even took a nap over there one afternoon. It was an expensive walk though, because every time I wandered over there I had to stroll through the shops and buy myself a little something pretty.  I have 3 new shirts, a belt, cell phone case, earrings and a necklace.
In this sea of horses and riders I never heard a discouraging word. I rarely heard a horse squeal or kick. That surprised me.  But then again, at this level of competition and this class of people, I guess it doesn't surprise me at all.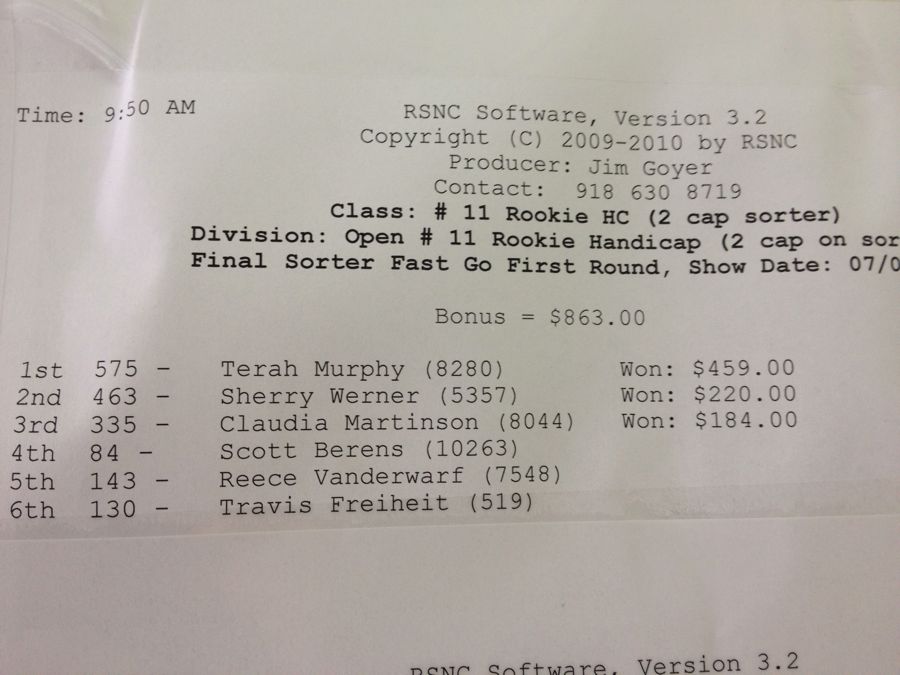 My only check of the week I won with my good friend and mentor, Cathy Herrmann.  And considering there were 600 teams in the class, I'm pretty darn proud of it.  We blew the second go which was the story of my whole week. I think I made the 2nd go 6 or 8 times and blew out every one.  I tried. I rode the best I could. My nerves calmed down after day 2, but the heat had its grip on me and my thinking.  I can't wait to go back and try again. Next year I'll know the drill better and not waste energy foolishly. Not an excuse, just an observation.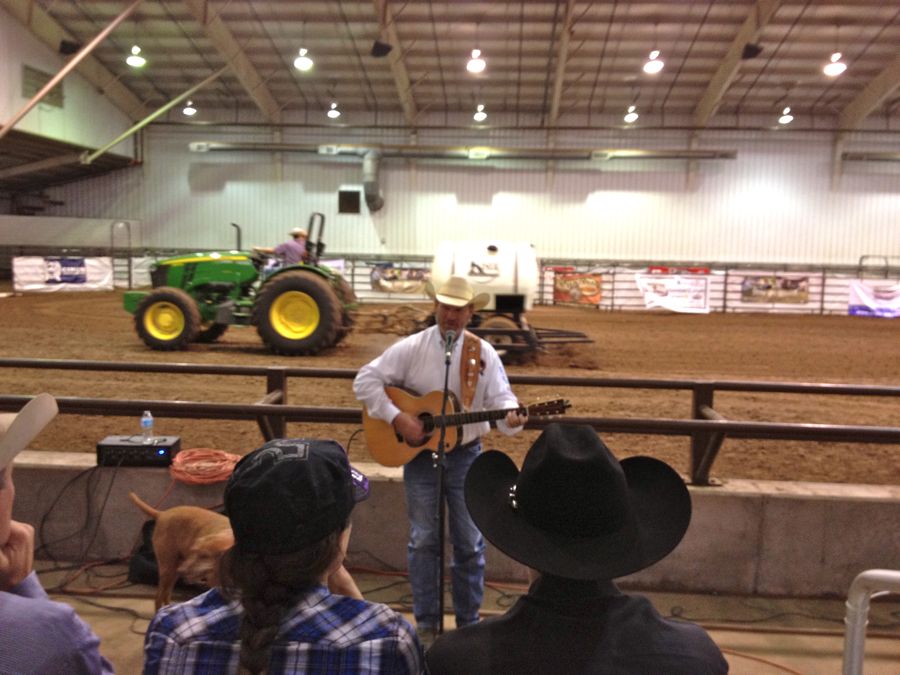 A highlight of the week was the Cowboy Church and singer/songwriter, Barry Ward.  Singing backup was John Deere.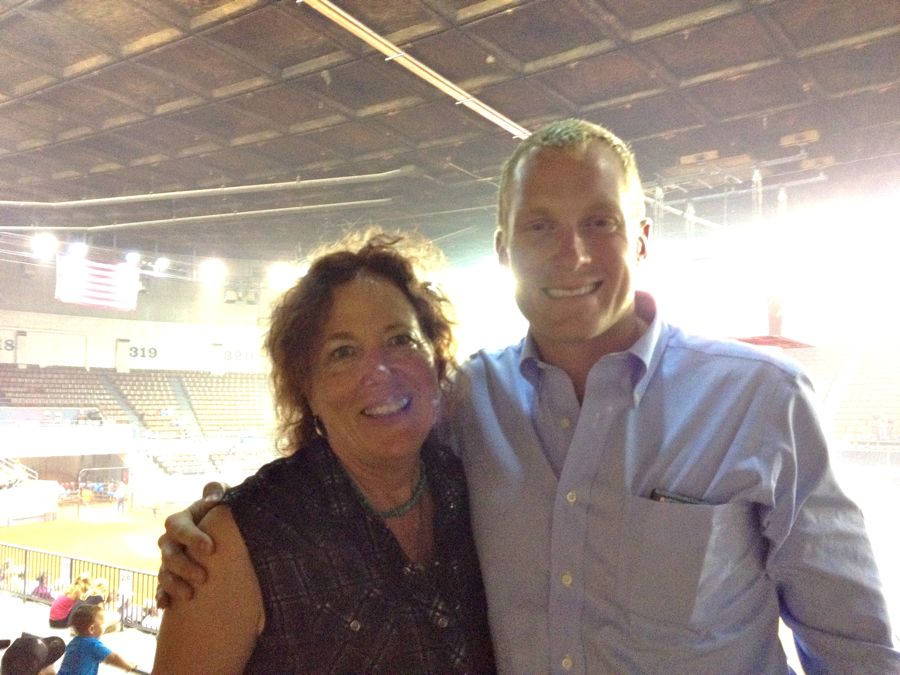 The biggest highlight was my nephew Conor (soon to be Dr. Murphy) who took a night off from the hospital to spend with his favorite sweaty Aunt watching the Battle in the Saddle Cowboy Mounted Shooting. This was the day I impersonated 'Larry the Cable Guy' by cutting the sleeves out of my shirt after I found out we could go sleeveless. He didn't care. He knows me.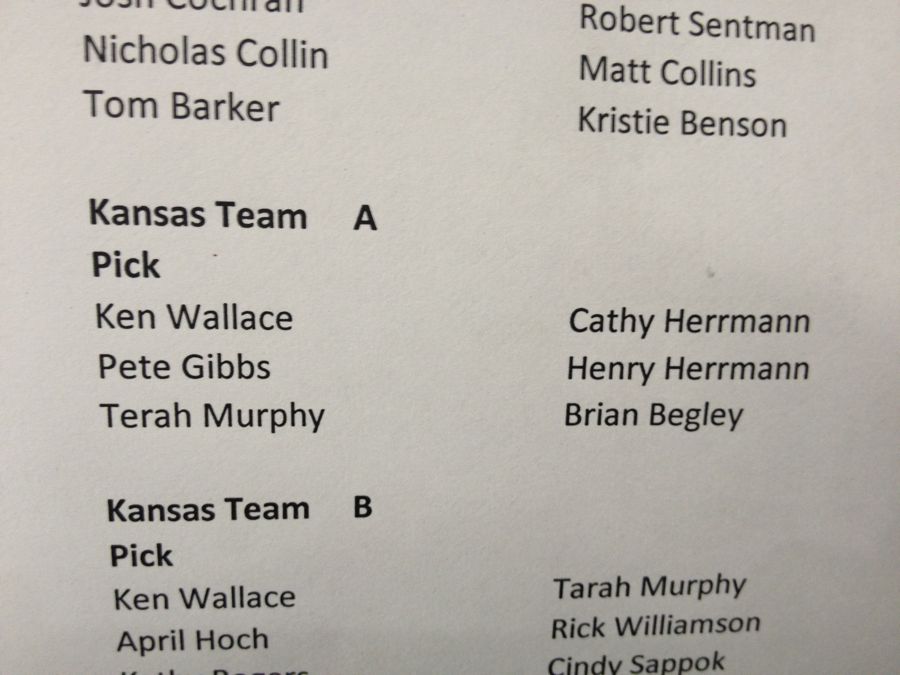 My other big highlight was the reason I went.  I was on the Kansas Team for the State Extravaganza.  We competed as a team for the State of Kansas against all the other states including our arch rivals Oklahoma and Texas.  We did not make the cut and get to compete the final night for the National Championship Saddles. Those darn Okies got it. But there is always next year. We'll be back!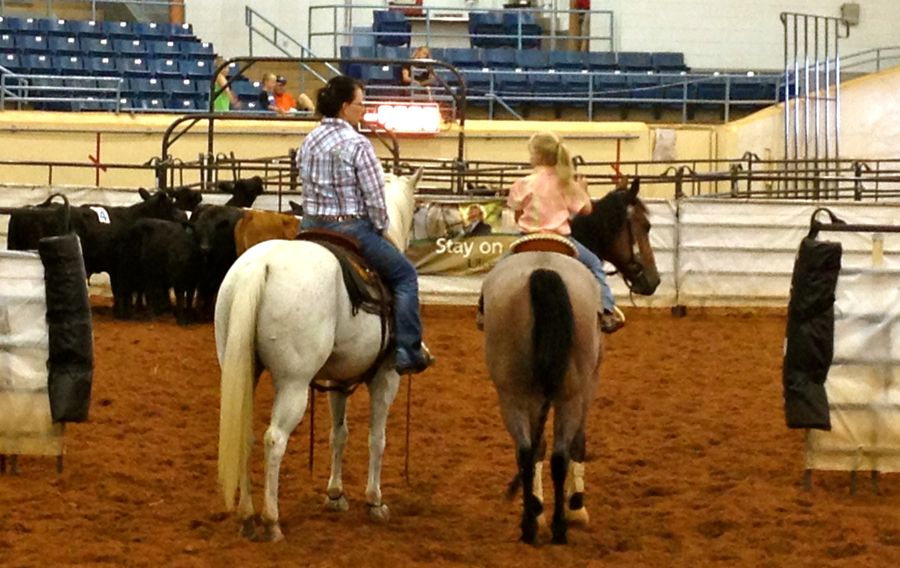 If there could be a theme song for the week it would be "I'll Be There For You" . 
I saw people literally give each other the shirt off their backs, loan out tack and saddles to their friends and fellow competitors. People were always picking me up and giving me a ride to my truck at the end of the day. My horse, Playboy, went on a 'walk about' when I left the stall door open while putting my saddle away. That rascal stayed two feet ahead of me and I couldn't catch him. Two young cowboys and one cowgirl looked up, sprinted down the opposite stall row and headed him off at the pass for me. However, the most profound thing that I saw was when my friend Wendy Barnes (who had a tough luck week) loaned her horse to another friend (who was having trouble)  to compete in the final round for a Championship Saddle.  And she won it!
"My cup runneth over …."
Love,  Cowgirl Red   aka  Terah
P.S.  Thanks to the RSNC and staff. Congratulations on a spectacular event!