Hey Christmas!  Yes, You. I'm just not that into you anymore.
So why are you making me feel so guilty? Why are you making me feel so ….. anti-American?  Why do you look at me like I'm a failure as a woman?  You think I'm lazy?  Why are you making me feel like I'm not enough? Why have I been chasing you all these years?  You used to be fun. You used to be joyful. I used to look forward to our time together. What happened to us?
If you were a real person I might just break up with you. At least I'd take a break for a while and re-define our relationship.  Because you know what?……. the reality is this ….. I'm just not that into you anymore.
I don't want to haul all those boxes of crap up out of the basement and decorate my house. I don't want to resent you in January when I finally get sick enough of you to box everything back up and haul it back down to the basement …. by myself.  That is precious time I could spend doing something fun…. like reading a book, sewing, napping, riding, coffee with friends.
I don't want to go shopping for you anymore for more stuff that ends up in the landfill. Don't we have enough already?
I don't want to bake stuff that no one really needs to eat. Aren't we all fat enough?
I don't want to stand in line at the post office to mail three small packages of handmade items for forty-two dollars. No joy there.
I don't want to get on Amazon Prime a week and a half before you arrive and mindlessly push "Send" "Send" "Send". I don't want you to be something I check off a list and get free shipping either.
I don't want to feel guilty when I get Christmas cards from people and I haven't sent any. Then when I do get my cards out and  lay them on the table and look at them with full intention of sending  ….. suddenly New Years rolls around. What's the point?  More guilt.
Christmas Cards are like Twitter.  I always wonder….. You have time for that?
I especially don't want to put up a tree. Cut one, buy one, fake one. None of the above.
I quit my church because they were preaching Trump from the pulpit, not Jesus. Sad but true. Not going to praise that 'baby' next week.
I don't know what you want from me anymore.  But here you come again.  Sneaking up on me. Wooing me back into your arms. Then smothering me.  Choking the life out of me. You are like a bad boyfriend and I resent you for that.
Christmas, I want to redefine our relationship. I'm taking a break this year. I know it's short notice but here's the minimum I can do for you: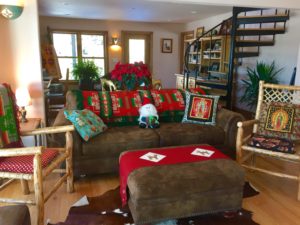 Absolutely no tree.  Maximum of 2 Poinsettias. Christmas blankets on couch for decorations. Call friends and family far away and have a good visit. Small thoughtful gifts. Cancel travel plans. Get together with neighbors and close friends. Cook easy simple healthy food.
Then…. we'll talk again next year.
Yours Truly,
Cowgirl-Red    aka  Terah.