Somewhere along the line I got derailed from blogging about everyday ranch life.  So here is my attempt to get back in the habit.  I really enjoyed blogging. It was fun. And sometimes I was funny.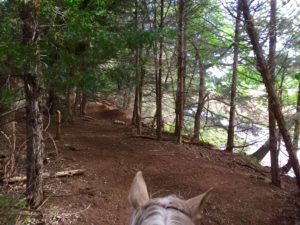 Yesterday we needed to get some pairs in and doctor some sore eyes. The calves get sore eyes from tall grass seeds and flies, basically.  The Vet has a bigger more substantial explanation, but that is the short version. Scratched eyes + flies = bacteria.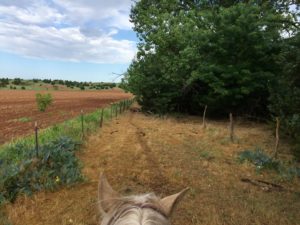 This is how we do it.  We trailer down to the pasture about 6 miles away.  I head out to find the herd.  Wouldn't you know they are as far away as they can be.  The far northwest corner of the pasture under the really ugly power lines.  This is what the wind farms bring us.  Really big.  Really ugly power lines. Ruining our vista for eternity. (end of rant)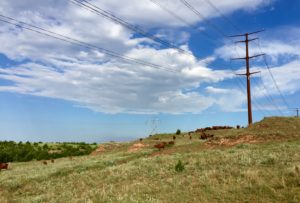 I get behind them and start them down the hill.  Rick is in the ranch truck with the cake box. That is their "carrot on a stick".  They slowly start walking down towards him.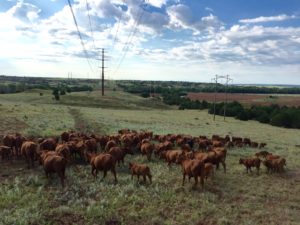 This is what I call "Pushing the Easy Button".  These Red Angus heifers are gentle by nature anyway. I can move them with a horse  by myself. But this is much easier. They are trained.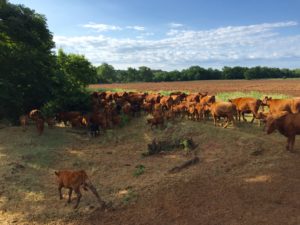 Until we get to a point of separation.  A place where the cake truck can't go.  But these girls are so easy to handle that I just keep gently pushing them through the trees and the creek.  I don't push them hard because there are a lot of fallen trees and thick trees.  I have to get off and walk a few times.   I want the calves to stay up with them.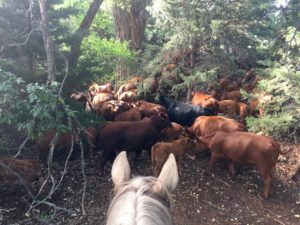 I can say one thing with absolute certainty.  These Red Angus heifers never run back. They never get excited.  I know it's their innate temperament (and mine too), but they were handled correctly by the ranch raised and developed them.  Haywire Cattle Company, El Dorado KS.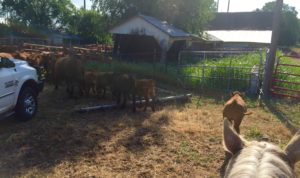 In they go.  Nice and easy.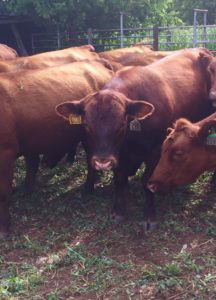 One of my bulls.  Isn't he cute?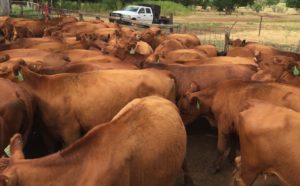 So now they are captured.  And we start sorting the calves that have sore eyes and a few cows.  I missed a cow and two calves in the trees and they wander up and we pen them. That's something I really like about cattle.  They are so "Herdy".  They don't like to be left behind.  And these cows specifically are "herdy". They are "sister-wives" after all.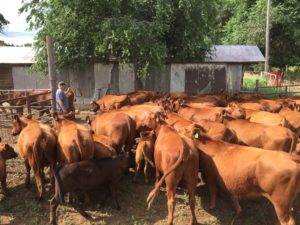 One black calf sticks out.  He's one we bought at the sale barn and gave to a cow that lost her calf. We loaded and hauled the calves to our working pens by the house (about 6 miles away)  That's another way we push "the easy button".  We modified our hydraulic chute to work calves. We doctor them, patch some eyes and haul them back.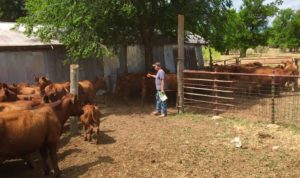 It's getting hot now. We have one more task.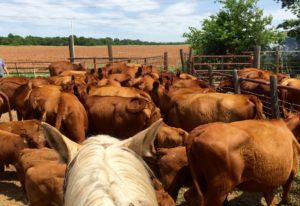 We put them in this small pen and squirt the insecticide on them.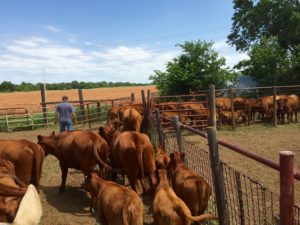 I forgot to mention the other "easy button" I push.  Her name is Puncher. She saves us both a lot of steps. But she requires several water breaks during the morning. I tell her to "get a drink" and she hits the creek on command.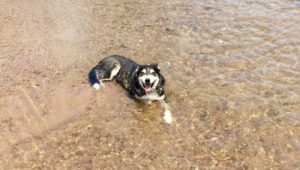 Then we head them out the other side of the pens.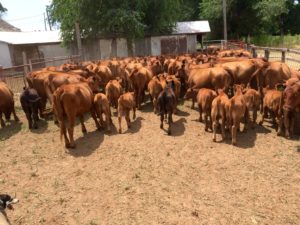 My secret weapon at the lower left.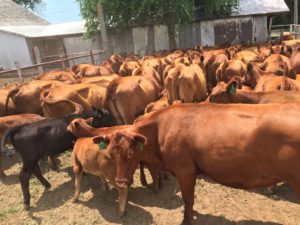 These cattle aren't really bad dog-fighters.  I've been able to keep Puncher back beside my horse until I need her.  I don't ever let her hammer them.  They know she's there but we give them their space unless they don't go. I keep her far enough back to keep the cows from turning around.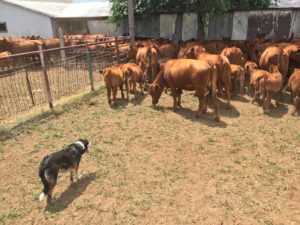 At this point I quit taking pictures because things got a little hairy as we came out of the pens and crossed the highway.  The cattle spread out but never ran away.  Puncher & I had our hands full for a few minutes.  Then it was so hot all I could think about was getting back to the creek.  We both took a dip.
Love,   Cowgirl-Red  aka  Terah