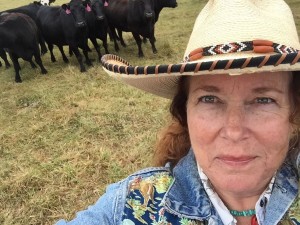 Hi friends.  Since before the election I felt myself slipping deep into anger, despair, depression and a general heaviness. Literally, the weight of the world was on my neck, my shoulders, hips, knees and feet. I know you know what that feels like. It hurts. It hurts physically and spiritually. I had to start a healing process in myself.  It's been a month. I cannot wallow in it anymore. I don't have the answers to our country's and our world's issues.  But I can start a journey of healing the anger and divide in myself and my community. I don't really know what that looks like, but I am trusting this journey and I ask you to join me in community and conversation. Let's heal together. Let's share our love and support.
These two words came to me this morning when I woke up. I am evolving and revolving.
Evolving meaning a process of change in a certain direction.  A process of gradual, peaceful, social, political, economic and spiritual advance. It also means to me to be in a higher consciousness and to become fully who I am as a woman. Evolve into being truly feminine. I am a woman. I want to know what that truly feels like. I want to leave the inauthentic masculine, patriarchal parts of me behind.  They haven't served me.
Revolving meaning two things.  Revolution is a celestial body circling in orbit.  It means all things natural and spiritual to me. The infinite plan of the universe. It also means a fundamental change in the way of thinking about or visualizing something. (It also means the overthrow of a government, but let's please don't go there).
So that is where I am today. Join me.  Talk to me.
I must now go take care of my cows.
Love,  Terah  aka  Cowgirl-Red.
My new about page:
I'm Terah.
I am a Cowgirl, Artist …… Goddess of the Plains.
Encourager, engager, and "Gap Jumper In-er"
My life is my canvas. The world is my community.
Hello Cowgirl friends. I'm changing, evolving and revolving. My life purpose, my passions, my place and my legacy. So trust me. Trust yourself. Saddle up and come along for the ride. I've repurposed this blog and I invite your gentle comments, community, engagement and love. Please join my Facebook Page also. 
https://www.facebook.com/Cowgirl-Red-217794978248619/?hc_ref=NEWSFEED
It is owned by me, myself and I.
Terah Murphy, Goddess of the Plains
Description:
In 2009 Dalai Lama said ….. "The world will be saved by the western woman". I want to be that woman. I want to empower that woman. I want to encourage that woman. I want to engage that woman. I want to know that woman. I want to build community with that woman. Whether she is 2 or 92. Please join me.
Bio:
I'm a cowgirl. A city born, sorority raised, fashion-artista. Turned CPA. Now resting comfortably in my authentic self. I'm a Cowgirl, Artist, and Goddess. Queen of this Ranch. Goddess of this Prairie. Mother to this patch of sacred earth and the animals that reside here.
Follow my adventures on my blog https://cowgirlredblog.com/   here.
Play with me …. as a fiber artist, social media engager, encourager, empowerment sister.
Facebook wanted to know what awards I've won:
I award myself a crown made of Sagebrush and Cedar with a sprinkling of Butterfly Milkweed. Sage as a sacred native plant. Cedar as an invasive species on the prairie. Milkweed as a place of respite for the endangered butterflies. That is my crown.
Love, Terah aka Cowgirl-Red