My life is like this jacket right now.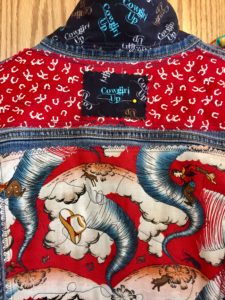 I feel like a  discombobulated cowgirl riding a tornado. Yeehaw!
Instead of Pecos Bill, I'm Pecos Jill!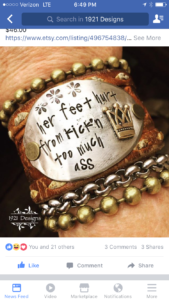 My feet hurt and now I know why so I bought this bracelet cuff online.
My new motto.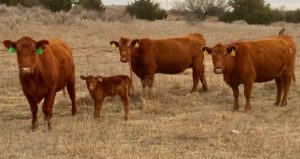 We started calving on the exact same date as last year. February 11th. My daughter's birthday.
I happened to be at Disneyland that day. Celebrating with her friends. My feet hurt because I kicked Disneyland's Ass! I hung in there from 8AM until after dark. I was very proud of myself.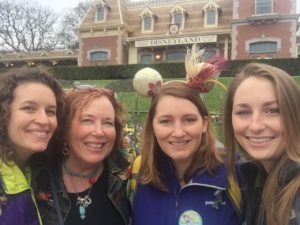 I marketed and sold 29 head of my fancy Red Angus replacement heifers. My first crop of them. I did it all myself. I was a #cowladyboss!  They went to a ranch in Pauls Valley Oklahoma to a sweet little 73 year old ranch couple that was changing their herd from black to red.(Right? Still growing and changing at 73)  They made two trips up here to get them. I enjoyed the process so much.  Meeting them and getting to talk about my cows and show them off. Plus the dozens of other calls I got from all over the Midwest and Texas. I made contacts and new friends and built community and interest in my cows.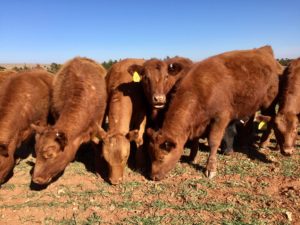 The calves have been coming slowly. We are off to a slow start. The A.I'd cows are calving first. The bull (their dad) is a deep dark red and it's evident in his offspring. Such a pretty color. And soft.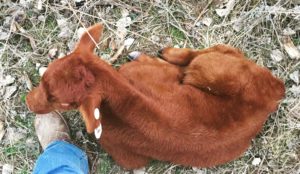 Softness and color aren't the qualities they promote like the EPD's of birthweight and weaning weight and marbling, etc. But definitely the ones I notice right off the bat.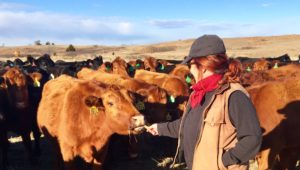 I still have a few pets. That I hand feed every morning and give a scratch on the head if she lets me.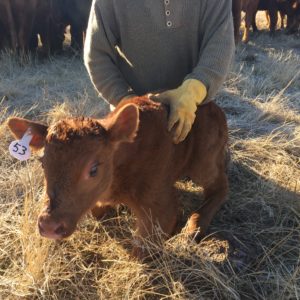 This guy is my favorite so far. A stout little bull calf that may get to stay on this ranch for a long time.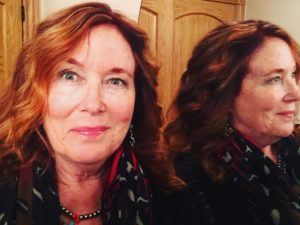 Then every three or four weeks I have to holler whoa! I must go to the salon in Wichita. I must.
Nothing will ever come between me and my hair appointments. Not even my own death.
I also must take a selfie every time I go to document the fact that my stylist is an artist and she straightens my hair for the day and makes me feel like a grown up woman.
Have a wonderful week my cowgirl goddess friends!
–
Love, Terah   aka Cowgirl-Red