In case you were wondering…… I (we) went on a vacation for a week.  Two weeks ago. It was great. But, I lost my momentum in my blogging and posting commitment that I made to myself.  Oh well.  Sh*t happens. Here I am. Two weeks later.  With a tan.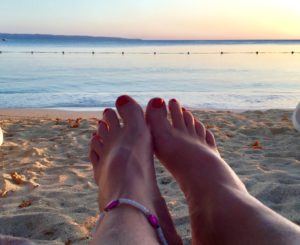 Friends keep asking. How was Jamaica?  What did you do?
Well….. You're looking at it.  We laid on the beach….. under a tree….. in the same chairs….. for six days.

I read 4 books. Turned down daily opportunities to buy weed and other drugs.  Lounged in the pool which had a swim up bar. Lounged in the hot tub. Swam in the ocean. Floated in the ocean. Snorkeled in the ocean. Got a daily massage on the beach. Watched some fabulous Jamaican entertainment. Danced a little with some handsome Jamaicans. Met some interesting people from all over the world.
Every morning we asked each other "What do you want to do today?"  The answer was always the same.
"Nothing."
We met a couple our age that sat next to us sometimes. They were training for the Boston Marathon. Very nice people, but……. come on…… give it up.   Always running and bragging. "We ran 8 miles today!!"  As they were unwrapping their knees and ankles, popping ibuprofen, and telling about their training regimen.
Still…… we laid there.  I wanted to say…… "I'll give you that and raise you two days on our ranch and we'll see about all that bragging".  They were so skinny they looked like I could snap them like a twig.
I digress…..
We did have to watch football one night.  Something about the playoffs and Super Bowl.  Blah Blah Blah. The best part of Jamaican TV was that the game was on but there was no commentary.  You could hear what the quarterback was saying and the refs. That was it. It was awesome!!  With out all those jabbery men talking over each other, I might like football.  Quiet football. What a concept.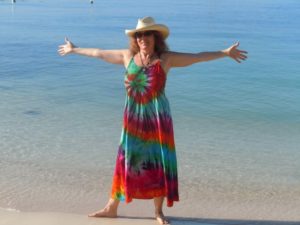 Then the day home was a very long day. As usual. Crowded airports. Crowded planes. But the people watching was fun and compelling. It was the day after the inauguration of the great pumpkin. CNN is in every airport in the world.  (What a great gig for them)  Anyway, the Women's March was playing all day. I watched people watching it and talking about it.  Very interesting and very telling. I observed mostly  men constantly eye rolling. I observed mostly women engaged with what was going on and being said.  Very interesting body language.
Then late in the day (I think we were in Atlanta by then) the great pumpkin's press secretary came on TV to start a fight about "size" and alternative facts.
 I observed many people laughing out loud. I was one of them.
–
–
Love,  Cowgirl- Red   aka Terah
P.S.  Books I read… 'Jewel' by Bret Lot,  'Born a Crime' by Trevor Noah,  'Hidden Figures' by Margot Shetterly and ' Making Life Easy' by Dr. Christianne Northrup