My studio.
This is where the magic happens friends.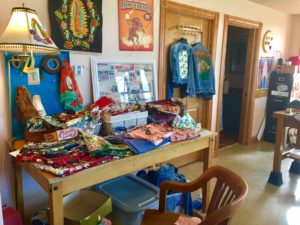 My studio. Which is just an extra room in our walk-out basement. I think we originally planned it to be an "exercise" room. As if that was ever going to happen.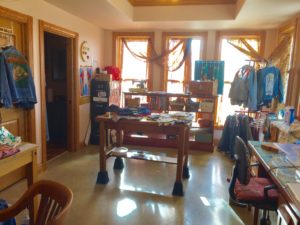 I don't think it really qualifies as a basement. It's just the lower level of our house. Earth on the east side with lots of windows on the south and west. The natural light is amazing.  Certain times of year the sun shines directly in so I drape with these vintage silk saris I can swoosh them back and forth.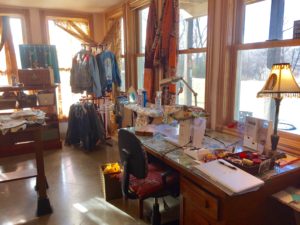 My tables, desks and shelves are vintage sturdy library and school pieces. Scads of flat surfaces are essential for me to constantly be looking at my fabrics for inspiration.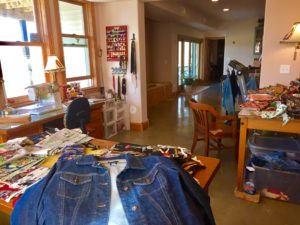 This is as tidy as it gets.  I took these snap shots while waiting for a Mrs2J to arrive.  Mrs2J  is a cowgirl from northwest Kansas. Her mom bought her a gift certificate for one of my jackets and ….. this was a first for me…..  She was coming to my studio to collaborate on the design!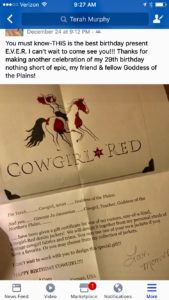 I had never done this before, but I knew with 100% conviction that this is where I need to go with my art. It was New Years Eve day and it completely fits my intention for 2017  : and the future.
MY STATEMENT OF INTENT FOR 2017!
Welcome 2017! I love you already. Welcome all cowgirl goddess sisters. Let's set an intention to support each other in loving and living our authentic lives! Who's in? 
I'm in! I love synchronicity!!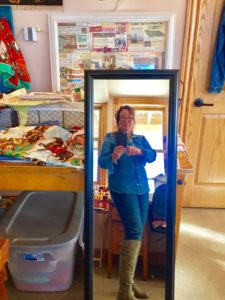 To honor her, myself and the sacred gift of art, community and collaboration, I dressed as my authentic Cowgirl-Red self.  Jeans, boots, hair, makeup, jewelry. My best self. I want to give my best authentic self to the world every day.  And especially to my sisters. **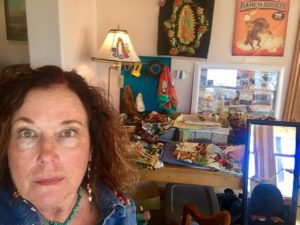 She arrived and we went straight to play. The time flew by and I was so much in the moment that I didn't take any photos. Fabric flew and she tried on jackets for size and fit. Mrs2J is young, creative, full of life and ideas.  We put together a combination that I would never have dreamed up left by myself. It fits her very unique style and personality.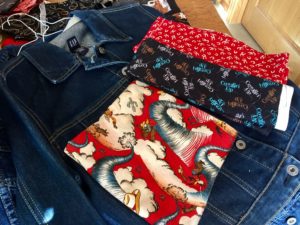 After she left she sent me the best New Years Present ever!  A text full of encouragement and empowerment.  She said "Thank you so much for taking time to visit and design today.  I had a splendid time!!  Looking forward to working together and getting to collaborate more in the future.!Happy New Year"   I told her I had fun and that she was a special person then she texted this…..
" Awww, thank you! I absolutely love networking with strong, empowered, intelligent and articulate women.  I think that verse in the Bible that talks about 'as iron sharpens iron so one (wo)man sharpens another' is HIGHLY applicable to building meaningful relationships with people—- if you want to be successful and empowered, you have to surround yourself with like minded individuals!! "
Then we exchanged a few more texts about blogging/branding/platforming and ranch life and especially collaborating and building relationships with women. She presented the seed of an idea to me about how many women and daughters would enjoy a diva day on the ranch doing what we did yesterday.
That was all the affirmation I need to know that we are in partnership with the Divine  to support each other in loving and living our authentic lives!
I don't know where this is headed but I'm all in!!!
Let me know what you think about collaboration, synchroncity, women's empowerment. What are some of your experiences? A day of creativity and encouragement. What would that look like to you?
Love,  Cowgirl-Red  aka  Terah
–
P.S.  I've been participating in a Women's Empowerment Circle through my good friend and coach  Auretha Callison since December. That's where I received gentle encouragement to show up as my best self everyday.  Thank you Auretha. It surely makes a difference.
P.S.S. Then on New Years Day I invited my friend and her granddaughter out to the ranch to do it again.  It was twice the fun.  Two jackets designed creativity and  collaboration and friendships strengthened.