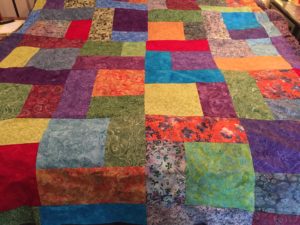 How I know I'm in good mental shape?  When I'm engaging in the things that I love. This is how I knew I might finally be healing from the effects of Lyme. Around the end of May I started sewing again. Honestly I had not stepped foot in my sewing room since about January. I thought I would be rusty and out of practice so I decided to just do something fun and simple. I went through my fabric stash and reorganized and re-folded fabric. That alone is very healing. Then I found bunch of bright-colored batiks that I had bought several years ago… For what? I don't know.
Anyway I thought what would be easy and fun would be a "Turning Twenty" quilt. The very first quilt I made 10 years ago was a "Turning Twenty". Good place to start. You just take 20 fat quarters and cut them like the book tells you to. Piece them together and Voila! You have a quilt top. It's like a pianist or vocalist warming up doing scales. Cut…. piece… sew…. Repeat!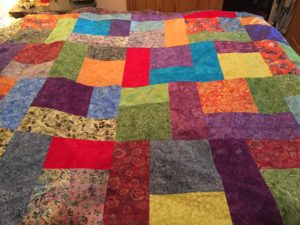 I had another goal in mind. To start using up my huge fabric stash before allowing myself to buy anymore fabric. Stashing fabric is an addiction sewers have. We all have it. For example I give you Missouri Star Quilt Co. in Hamilton Missouri. Say no more.
I'm more of an Etsy and eBay girl. In search of vintage fabrics and quilt tops. Relieving someone else of their stash some how makes up for it. I digress.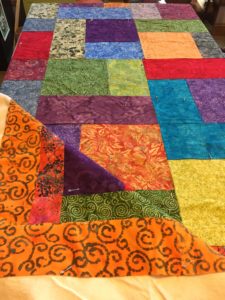 Over the course of a few days I got the top finished. Then I went against my rule of not buying fabric.  I bought some cool backing fabric on Ebay. However I did adhere to my self-imposed rule to not buy anything online after about 7PM at night. If I really like something I try to make myself wait until morning. That alone has saved my hundreds of dollars ( I keep telling myself that anyway)
I'm into the orange color range right now. Pumpkin. Tangerine. Cantaloupe.  The whole backing cost less than $30. So that's good plus I got a border out of it.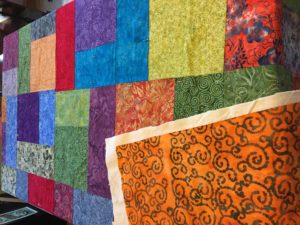 I free-motion quilted it myself. Another "set of scales", mind you. It got me back in practice with my machine (Bernina 440 QE) walking foot and BSR(Bernina Stitch Regulator) for free-motion quilting. Each patch has a different pattern. More like free-motion doodling.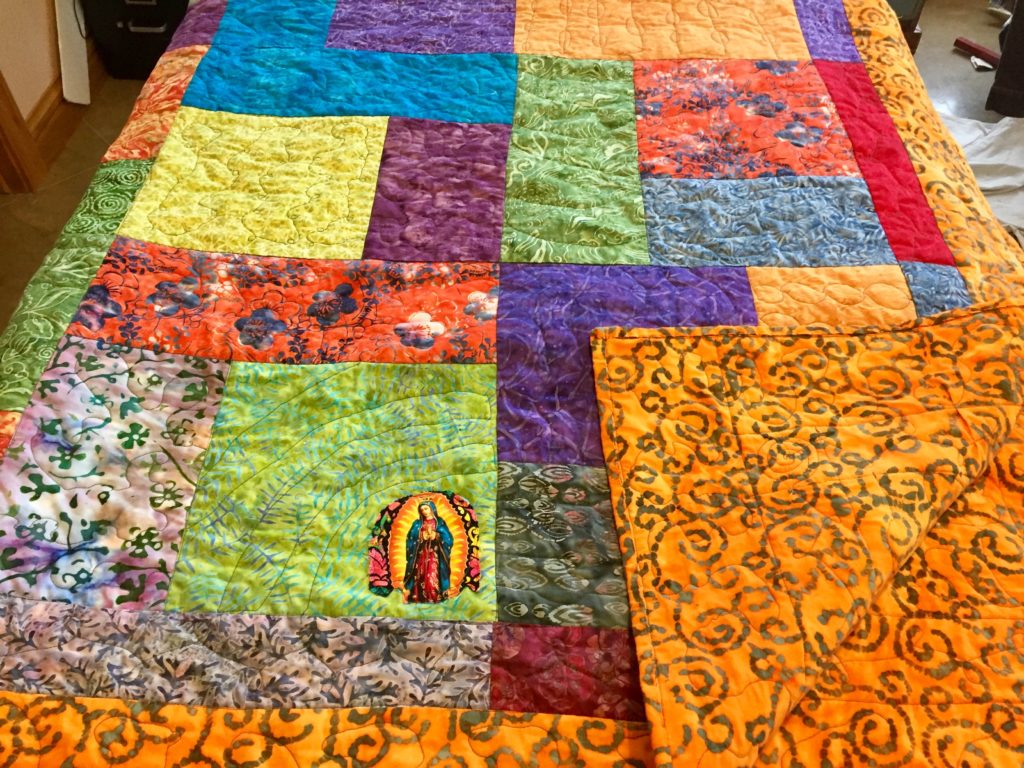 Anyway. I love it. It makes me happy to look at all these colors. I added a little Our Lady of Guadalupe for good luck. She's the patron Saint of my Sewing Room.
Love  Cowgirl-Red    aka  Terah
P.S.  thank you for all the comments and encouragement on my very personal posts about Lyme Disease.  You fill me up.