I was feeling scrappy last weekend.
Literally and figuratively.
There are two meanings to scrappy and I qualified for both.
"Made up of scraps or of odds and ends; fragmented: disconnected."
"Fond of fighting, arguing, or competing."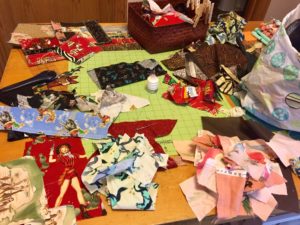 These are the days I'm not fit for human companionship.
I put myself in time-out and retreat to my sewing studio.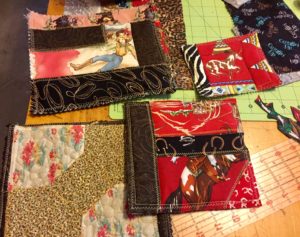 I find it calming and  desensitizing. I was over stimulated last week by too much company, too much noise, too much having to talk, too much news and too much having to be engaged.
Plus I like to hide out anyway.
I know myself well enough by now to know that I crave quite space and mindless creativity. My medium is fabric. I get out my scrap boxes. Like most fabric junkies I can't stand to throw away fabric. I may take it too far. But I must use it all!  Plus, I love my fabrics. They remind me of a certain project or jacket. They make me happy.  I like to dump the scraps on the table and sort and cut and sew them together and make a block. Then I cut a piece of thinsulate to match the size and voila!  A cute little hot pad or mug rug.
I blissfully staid in time-out all weekend.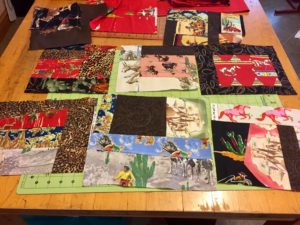 I could be like a musician practicing scales?
Or possibly I took my thyroid pill twice?
Whatever.. Now I almost have enough blocks put together for a quilt.
I'll call it my "Hide Your Crazy Quilt"!
Love,   Cowgirl-Red   aka  Terah