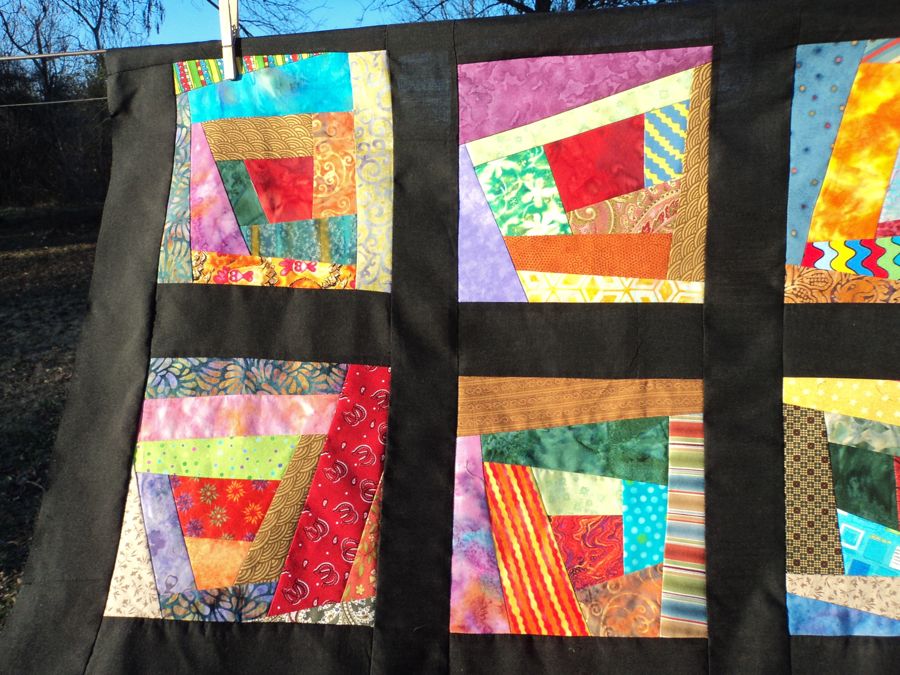 I had 32 blocks left from the Crazy Quilt of my last post. I wanted this one to be larger and different.
I chose to use some black "sashing" to accentuate the blocks. "Sashing" is basically cutting 3″ strips of black fabric scraps and framing the blocks like window panes.
It's a fun and mindless endeavor. I didn't even know what it was called until recently. A quilt shop owner said "Oh, I like your sashing".  And I was like ….. " Uh, thanks (so….. that's what it's called)."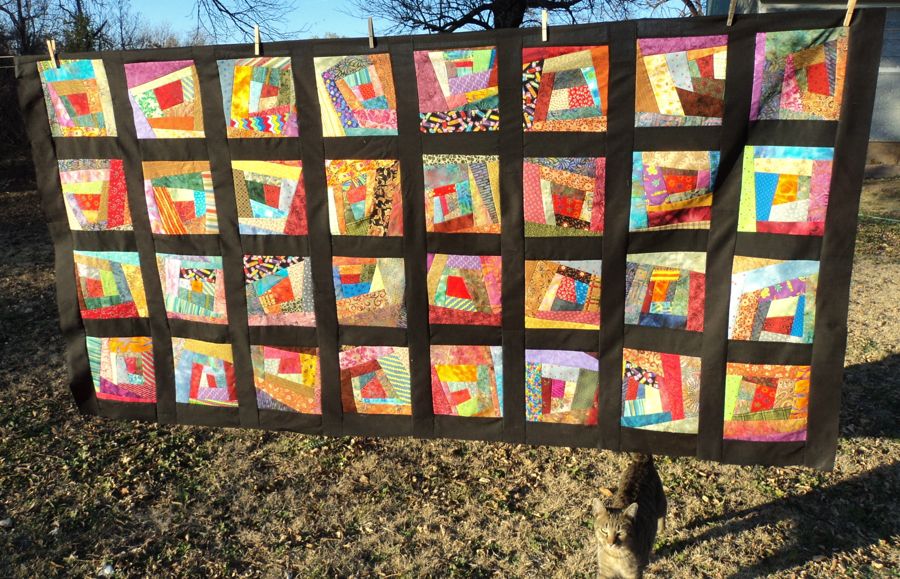 Here is the quilt top with Tiger-Kitty ready to pounce.
 I swear, these cats only give my about a minute and a half to take a picture before they are swinging off my quilts on the close line.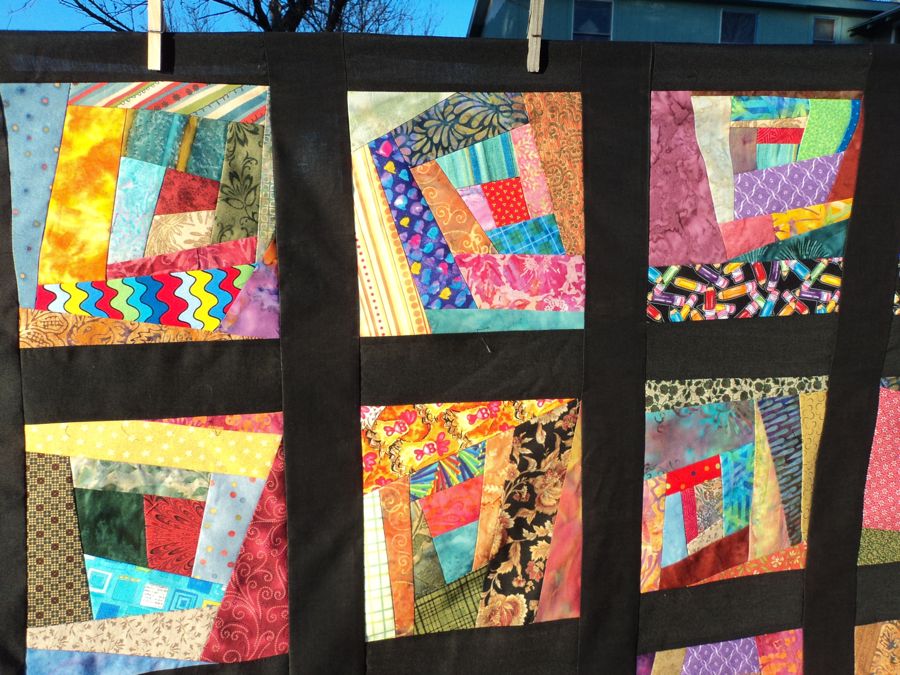 By the way. Just for the record. This close line has probably been in this back yard for 50 years.
I just want to make it perfectly clear. That I have never, ever, ever hung laundry on it.
(Not that there is anything wrong with that.)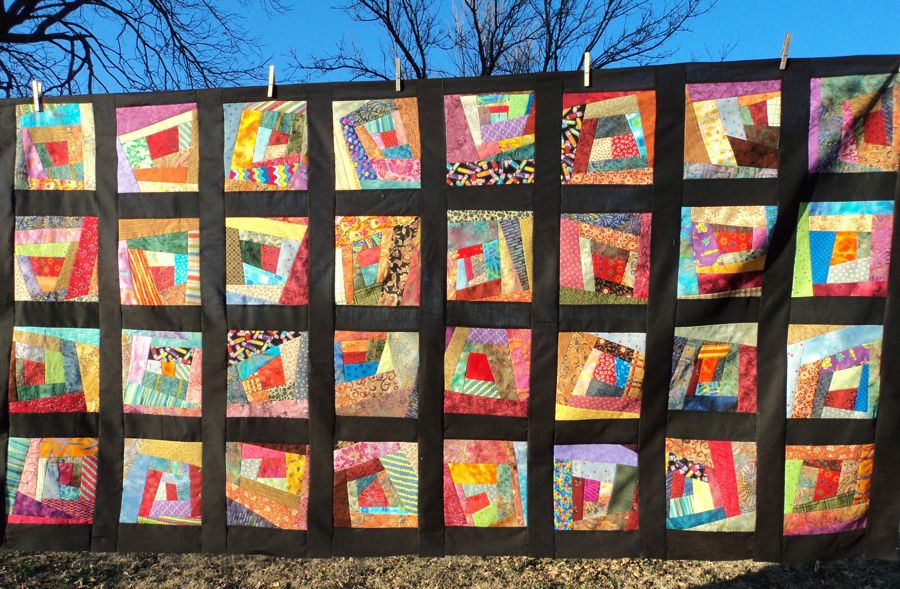 I was raised in suburbia, in the 50's and 60's. My mother was really into the modern conveniences like electric dryers.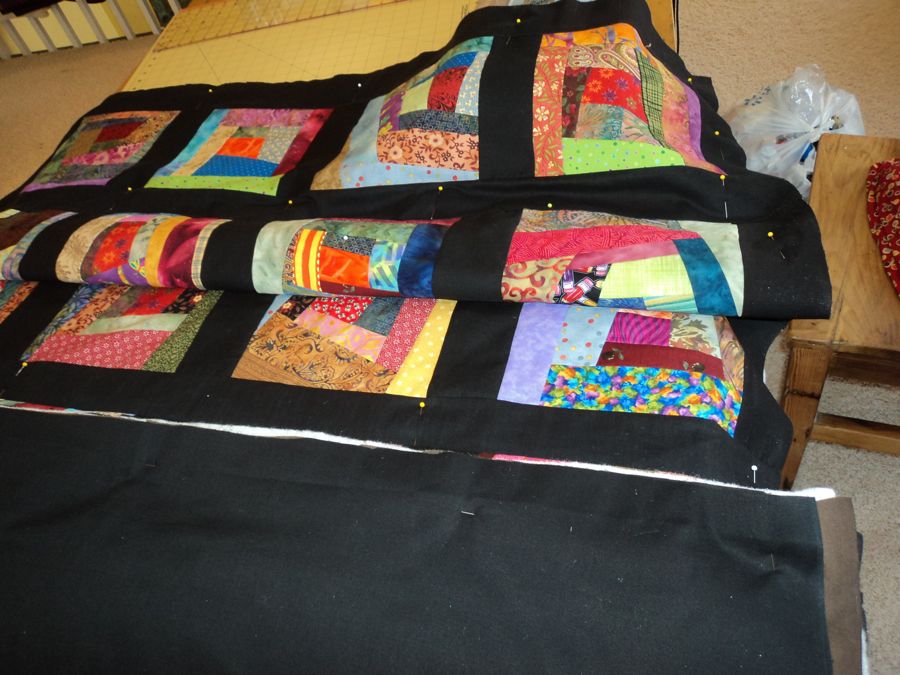 I digress.  I didn't have enough black fabric in my stash for the backing. No other color seemed right. Given the fact that I live 90 miles from a fabric store and I have OCD about finishing projects RIGHT NOW, ……..  I did the "unthinkable" again.
I went to Walmart.  Yes, that's right, I went to Walmart. I said it. (I bought the batting there, too).
I have learned one lesson for my future OCD treatment.  I sacrificed a little quality.  Enough said.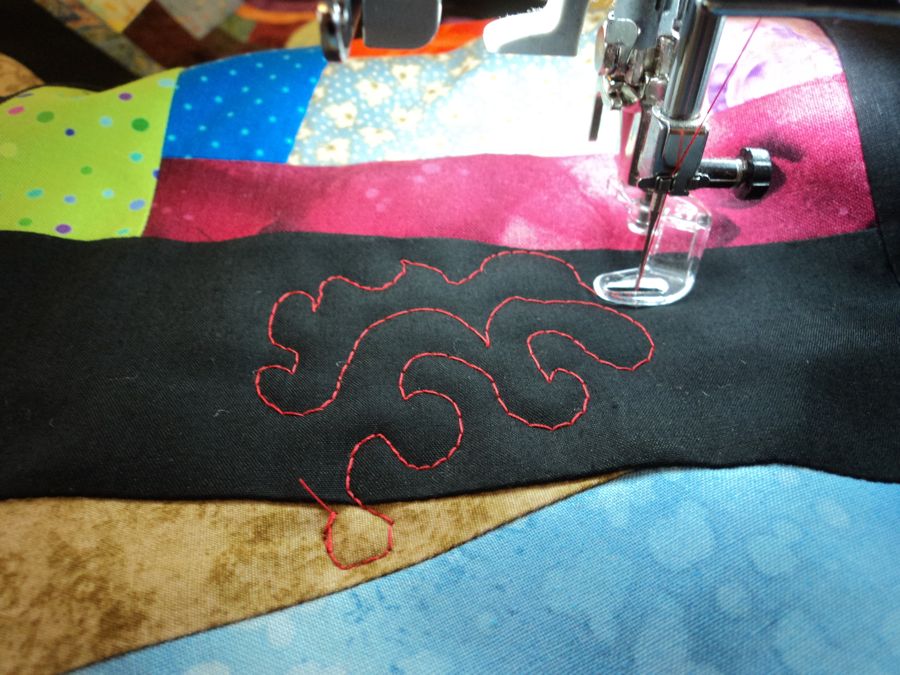 I really haven't figured out batting yet.  Or machine quilting either. I'm kind of winging it. I used the old fashioned, conditioned method of buying a few books to learn more.  Then I had a light-bulb moment.  Sometimes I forget about the power of the internet. I can't help it. I went to college in the 70's. I took my CPA exam with pencil and paper. Not even a calculator.
Through the magic of the Internet,  I discovered Craftsy.com  .  I bought an inexpensive, in-depth class on Machine Quilting and Free-Motion Quilting taught by Wendy Butler Burns.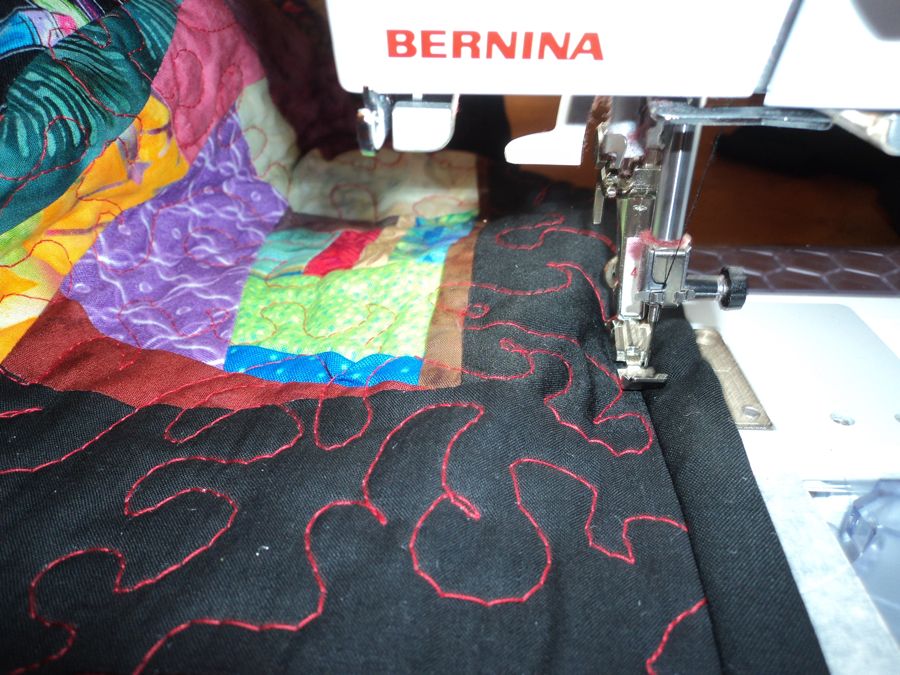 Now, I'm "Cookin'. ………..  with gas.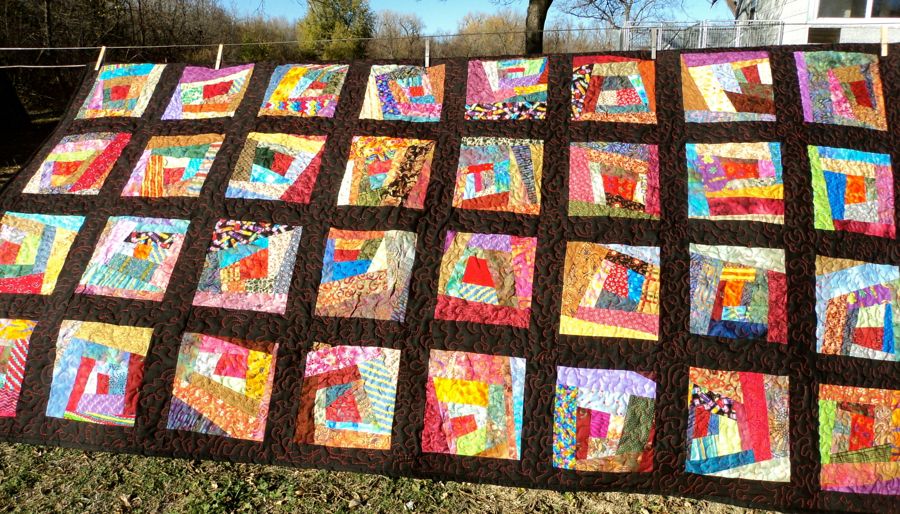 I finished the quilt, before I finished the course.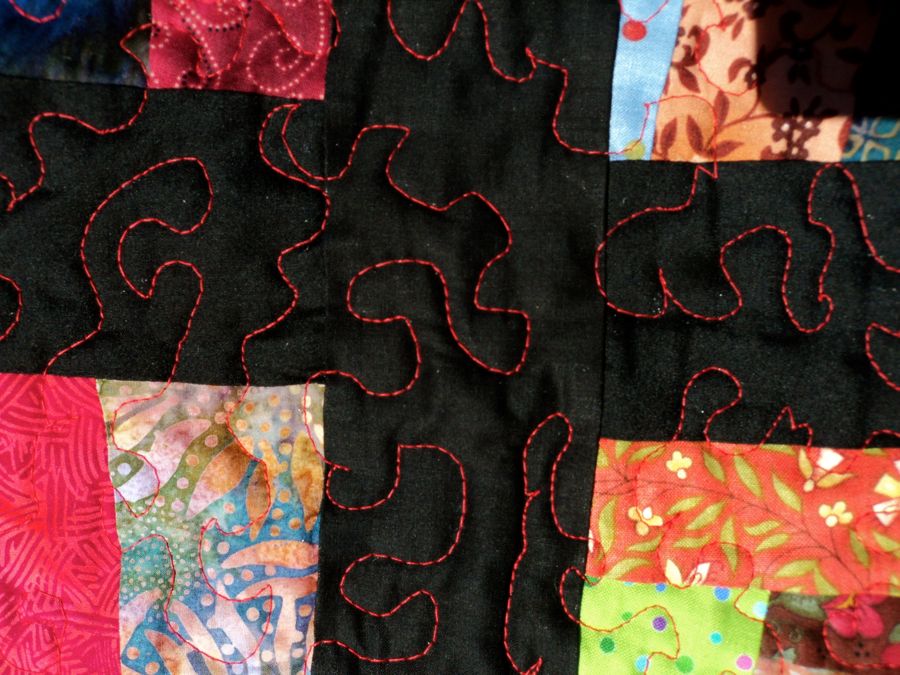 I'm in love with this art form.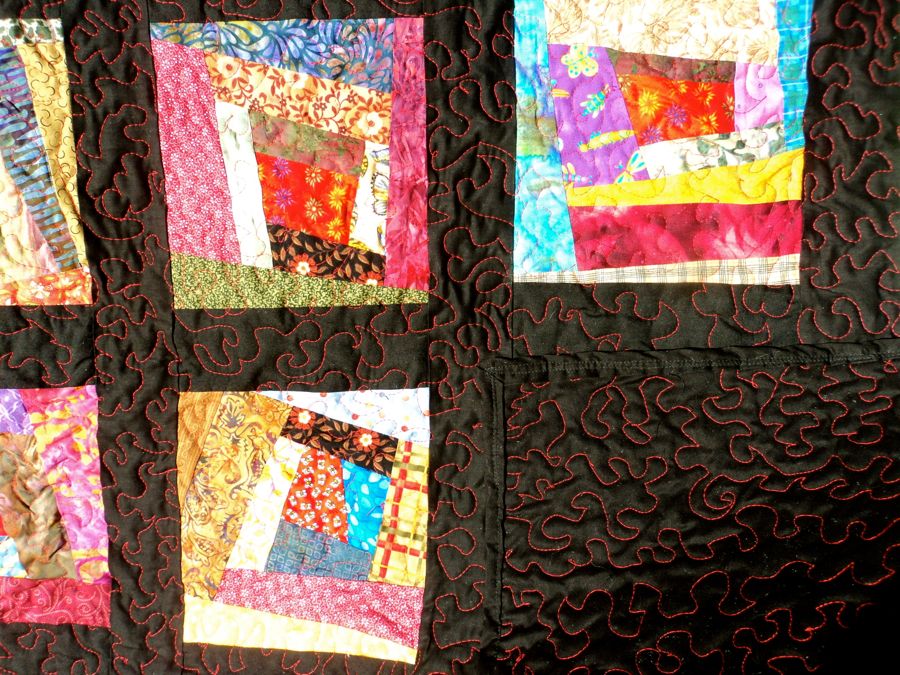 I could sew these red "fiber-doodles" on black fabric forever and ever amen. It's meditative.
Could not help myself.  I had to sign it.
Love,  Cowgirl Red    aka  Terah
P.S.  It is for sale. It measures 84 X 44