Thursday Morning.
We got a better start at daylight.  I only had one cup of coffee in bed. Then saddled up and long trotted about 2 miles through our place and across our neighbors pasture that we lease.  I met up with our cowboys for the day (Day Riders).  They are also our good friends. A father and two sons. He's also the pastor of our church.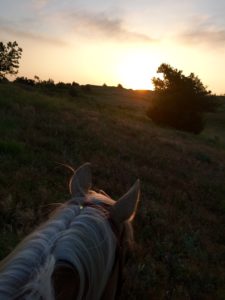 Usually on a daylight ride I would have time to contemplate and meditate. But today all I can think about is beating the heat.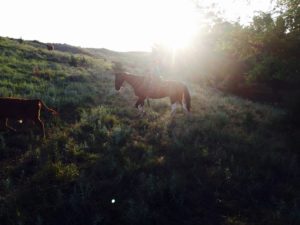 These cowboys are a well oiled machine. We all fan out and start walking.  Picking up everything we see and head north about a mile. And visiting a little. The best part of cowboy-ing.   Rick meets us in the  feed truck at the highway we have to cross. He honks the horn. (I want a siren, but he refuses. I'll get one yet. What I really want is a recording of Don Edwards singing "Cattle Call")
Since we have so much help today, I ride ahead and go through the gate and stand in the road. It discourages them from wandering down the road ditch.  I love my cows.  They are so tame. Even if they do wander a little you can ride though them and turn them back around.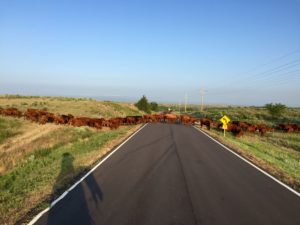 They mosey south. (oops.  I mean north)  I am directionally challenged.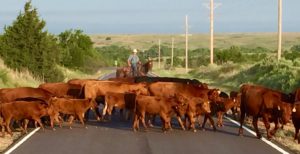 Hi Levi!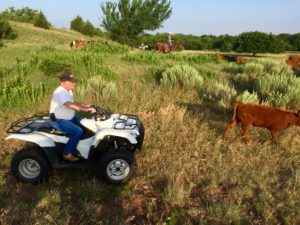 Hi Herb!  Our dear friend, neighbor and landlord.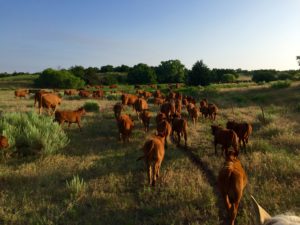 They follow the truck through the trap pasture.  It's shaped like a V and funnels them into our working pens with the hydraulic chute.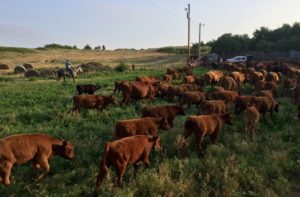 We are having a lot of eye problems like I said before. Instead of being real western and roping them we push the "Easy" button and just bring them all into the pens.
We sort off the ones with bad sore eyes and run them through the chute for medicine and sometimes a patch.  We spray them all with a long acting insecticide.  And hope for the best.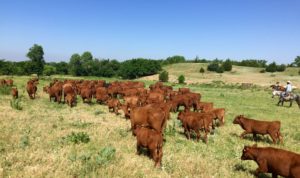 These are the heifers we AI-ed last month.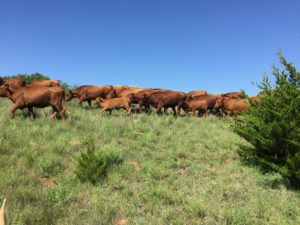 We head them back south through the pasture they were in.
Now they mosey south.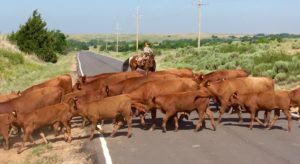 I want to call this photo.
"My Three Cowboys"
After the old show "My Three Sons". Which the theme song is now stuck in my head. Thanks.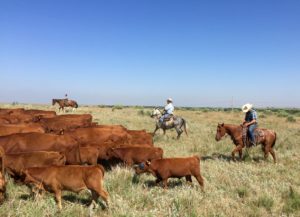 It's about 11:30 now and getting really really hot.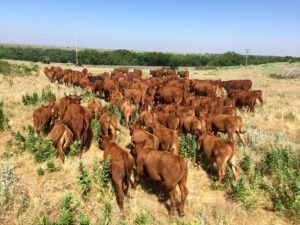 Or, "HOT HOT HOT!"
That's another song stuck in my head that replaces "My Three Sons"
I don't know all the words but it ends with…..
"It's Hot Hot Hot".
Somehow I don't think they were talking about the weather.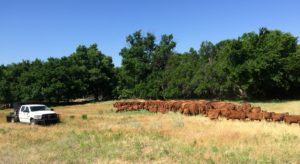 We get them across the road and into a new pasture on Turkey Creek. Rick strings out a line of cake. That's their reward for being such good cows.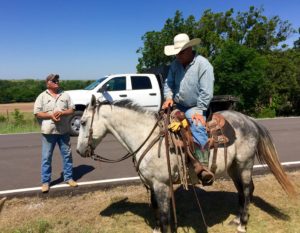 Even though it's Hot Hot Hot, we take time to visit for a bit. My favorite part of cowboys.
Then comes yet another song.  Actually a Waddie Mitchell/ Don Edwards collaboration.
"We commune while we're commutin' and what a difference that makes"
I hope that's the one that sticks in my head the rest of the day.
Please.
~
~
~
Love,  Cowgirl-Red    aka Terah
P.S.  This week has been too hot for man or beast in Kansas. I hope everyone has stayed safe and smart in the heat.  It kicked my butt by Thursday afternoon.
P.S.S.  Words like North South East and West are wasted on me. It's a problem. I wish people would quit using them.